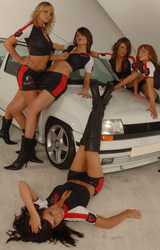 There are always some ultra cool motors at the show
(Vocus) April 3, 2009
Is your Pug, Renault or Citroen the best French car in the UK? Then be sure to enter The Top French Car Award for the best car at the Adrian Flux French Car Show 2009.
Flux's Top French Car Award is the Show's equivalent of an Oscar – and though there may not be any film stars at the event, there'll be plenty of glamour for the lucky winners, since the award will be handed over by the Flux Babes.
"There are always some ultra cool motors at the show," says Gerry Bucke of Flux. "The Top Car Award will give us the chance to really celebrate the dedication and passion that these guys have."
As well as covering themselves in glory and glamour, the winning owner will get a year's free insurance for their car, courtesy of Flux, up to a maximum value of £500.
The winner will be selected from the Meguiar's Top 25 by a panel of judges at the show. To enter the Top 25, and for a chance to win the coveted Top Car Award, visit the Adrian Flux French Car Show website and click on the Meguiar's Top 25 button.
The generous folk at Flux are also handing out £100 cash to one lucky visitor to the Show. Full details come with tickets – but essentially anyone attending the Show can enter, it's just a matter of filling in a couple of details on a form and handing it in to the Flux Babes at the Flux VIP Lounge, located in Rockingham's Welcome Centre. The £100 winner will be drawn at 4.00pm at the Show.
Tickets for the Adrian Flux French Car Show cost £12.95 in advance, or £15 on the gate, and under-14s get in free. Camping costs £15 per car of up to four people. Book in advance through http://www.frenchcarshow.co.uk and get priority car parking and a free window sticker.
To contact Adrian Flux Insurance Services freephone 0800 505 3000, email the company at quotes(at)adrianflux.co.uk, or see the Flux homepage on http://www.adrianflux.co.uk
The show organisers can be contacted via the website, by emailing info(at)frenchcarshow.co.uk or by calling 07973 900 134.
PRESS ENQUIRIES: French Car Show Top Car Award– Apr-09
Toni Turner or Alison Haynes at The Publicity Works
Tel: 01263 761000 Email: flux(at)publicityworks.biz
Mark Dow of The Adrian Flux French Car Show: 07973 900 134
Gerry Bucke of Adrian Flux Insurance Services: 0800 505 3000
###