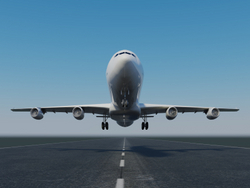 While it's hard to determine the exact cause of excess gas while flying, there are many possible triggers
East Longmeadow, MA (PRWEB) April 10, 2009
Whether you are taking to the skies this summer for business, the holidays or spring break, your wallet will be thinning out from all the added fees. However, be prepared for a lot of "jet bloat," which according to gastroenterologist and CharcoCaps medical advisor, Patricia Raymond, M.D., is the body's increased volume of gas that occurs from airline travel - the higher the altitude, the more the gas in our bodies expands.
In fact, a survey for CharcoCaps® Homeopathic AntiGas Formula found that 16 percent of adults admit to passing gas during public travel.
"While it's hard to determine the exact cause of excess gas while flying, there are many possible triggers," says Dr. Raymond. Excessive gum chewing, candy sucking and air swallowing to equalize the inner ear air pressure for take-off and landing will lead to non-smelling flatulence, while harried eating at the airport is another contributor to jet bloat.
If you find yourself experiencing jet bloat and becoming gassier during airline travel, follow these guidelines for eating and drinking at the airport and while in flight:
•When scouring the food court, avoid anything that you've shown intolerance for on the ground. If milk intolerance is your downfall - avoid all dairy. Try to avoid foods that will probably make you gassy, such as fried foods, beans, bananas, cabbage, Brussels sprouts, or broccoli. If you get gassy, the volume will expand, even in the pressurized cabin as you reach flight altitudes - so there will be even more volume of gas, which can lead to discomfort from jet bloat.
•If you do eat gassy food, take over-the-counter CharcoCaps® Homeopathic AntiGas Formula immediately, so you don't inflate like a bag of pretzels as you reach cruising altitude. The Carbo Vegetabilis (activated charcoal) will stimulate the body's defense system against the discomfort of intestinal gas. Travelers sitting near you on the plane will be grateful.
•Drink beverages rich in electrolytes, such as tomato or fruit juices, which help with hydration. While water is also fine, avoid coffee, tea and sodas since they will dehydrate you, and the carbonation in the soda can cause gas issues. Since alcohol is also a dehydrator, hold off until you are on the ground at the hotel.
For additional information or a chance to win a monthly pre-paid gas(oline) card (while supplies last), visit http://www.charcocaps.com and take the Gas Etiquette Quiz.
###