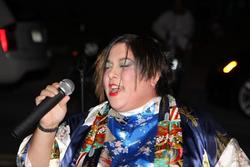 Banding together at the Winter Music Conference with everyone was such a tremendous way to celebrate the enormous love of dance music shared by so many from around the globe
Los Angeles, CA (PRWEB) April 8, 2009
Shooting dance music star Jimmy D Robinson leaps to great heights as his most recent Power Pick single, 'In the Night' featuring CEEVOX, peaked at #4 on the Billboard Club Play Chart. After a momentous club outing during the Winter Music Conference in Miami, CEEVOX and Jimmy D Robinson will be hitting with future performance dates and new club hits without a second to pause. Creating history on April 18th in the great state of Florida, Miami Beach will hold their first ever Gay Pride Event and Parade where the festivities will end with a command show on the main stage on Ocean Drive featuring Patti LaBelle, Carol Jiani and CEEVOX belting out the international dance hit 'In the Night.'
"Banding together at the Winter Music Conference with everyone was such a tremendous way to celebrate the enormous love of dance music shared by so many from around the globe," states Jimmy D Robinson. "To be able to cap the success of 'In the Night' with CEEVOX at the WMC with all of the DJs and industry was nothing short of an exciting and grand moment."
Jumping into the fire where the hits are getting even hotter, Robinson conjures up two more original dance tracks to strike while the iron is hot featuring CEEVOX: 'At Midnight' and 'Please Don't Die.' Both songs taken from the book of poetry 'Rock the World' written by songwriter, lyricist, poet Jimmy D Robinson, 'At Midnight' and 'Please Don't Die' are next in line to heat up the dance floor. Produced by Jimmy D Robinson, Kinky Roland and Mark Schneider, an international cast of remixers including Loverush UK, Jose Velez, FC Nond, Hybrid Heights, Joseph Indelicato, DJ Craig Demo, Kinky Roland and many more will convoy the two new songs onto the charts.
"Writing poems and lyrics releases the goodness and truth within and cleanses my soul. Producing the poems into dance music makes my heart sing louder than I ever thought it could," exclaims Robinson. "With my two new tracks 'At Midnight' and 'Please Don't Die' I believe that dance music fans will continue to follow me on this journey. I am so grateful for the support I have received by so many in my musical endeavors!"
Expanding J Music Group's library, Robinson will also release three new electro/tribal/house tracks from FC Nond tilted 'Dance Fantasy.' Masterbeat will be releasing Jimmy D Robinson Presents FC Nond's 'Dance Fantasy exclusively.
About Jimmy D Robinson
Jimmy D Robinson, a native of West Palm Beach, FL, is a self-proclaimed 'perpetual club kid' and is quickly being referred to these days, in certain circles, as the new music impresario on the block. With two Billboard and UK club hits already under his belt, Robinson's recent foray into the dance world has been a stroke of genius and luck for the poet, lyricist, musician, producer and entrepreneur. With over sixteen self-penned books of poetry to draw inspiration from, for other recording artists and genres of music, Jimmy D Robinson's star is just beginning to shine.
Full of despair, destitute, and homeless, Jimmy D Robinson began creating descriptive sentences in his mind and then penning them on scraps of paper or anything he could find. Much of the poetry in his books was written during these times. Gazing at the moon, the stars, the clouds, the sun, searching for anything that would give him hope--hope to live, to overcome, and to triumph. It can be said that poetry saved Mr. Robinson's life for when he began writing, he was overwhelmed with feelings that he hadn't experienced in a long time. Poetry made him reflect and look inward and gradually, he found the more he wrote, the better he felt. It was never his intention to be a poet; he just did what came naturally. By publishing his books, Jimmy D Robinson wants his readers to know that no matter what depths one can sink to, there is always a chance for change.
Jimmy D Robinson ventured into the studio in 2007 and began setting his poetry to music. His debut full-length spoken-word CD was titled MIND JUICE. MIND JUICE is a timeless collection of Robinson's poems set to beautiful music. The inspirational and uplifting MIND JUICE CD was composed by Bruno Linares and narrated by James Randolph. MIND JUICE, currently distributed through Best Buy and other outlets, is the first book of Robinson's sixteen-book collection to be produced into a spoken-word musical CD. From the MIND JUICE CD sprang Robinson's first international chart hit "A Tiny Shoe." Setting lead track on MIND JUICE, "A Tiny Shoe," to dance music, was world-renowned producers DJ Tracy Young, Josh Harris, Bruno Linares, FC Nond, Rafael M, Twisted Dee and DJ Paulo. Each creating their own spin on "A Tiny Shoe" for dance floors, they broke through walls and consciousness with inventive production work pushing the track to #6 on the Billboard Club Play chart and #7 on the UK Music Week chart. Jimmy D Robinson's latest dance hit 'In the Night' featuring CEEVOX went to #4 on the Billboard Club Play Chart.
For more information please visit: http://www.jimmydrobinson.com and http://www.atlasbooks.com/jimmyland and http://www.myspace.com/jimmydrobinson.
For Press Inquiries:
Jim Strzalkowski
MEDIA GIANTS
(310) 860-6205
(323) 363-5094
http://www.mgiants.com
J Music Group / Jimmyland Corporation
Corp. Offices 561 602 1400
International Bookings for CEEVOX
###