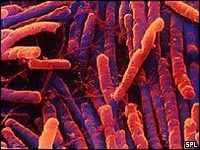 When the 'baby' C. diff emerge from their spores, they are greeted by a well-colonized gut, rather than an empty playground.
San Bruno, CA (PRWEB) April 14, 2009
C. diff-associated disease (CDAD), otherwise known as severe intestinal disease brought on by the Clostridium difficile (C. diff) pathogen, continues to be a subject of concern in the medical community, but researchers have now identified specific risk factors that contribute to C. diff infection.
While C. diff most commonly occurs in people who have had lengthy hospital stays, a recent meta-analysis has determined that older age, antacid medications and long-term antibiotic use are risk factors for an infection.*
While there's nothing you can do to prevent getting C. diff, there are precautions people in the new C. diff risk groups can take to help protect themselves, says Patricia Raymond, MD, FACP, FACG, a Chesapeake, Virginia-based gastroenterologist, associate professor of Clinical Internal Medicine at Eastern Virginia Medical School.
Dr. Raymond recommends:

Hospital patients, particularly those older in age, should accept early discharge as much as possible because a longer hospital stay increases your risk of catching an infection.
Only take antibiotics when necessary. Antibiotics are good for bacterial infections only, and are completely ineffective against viruses, such as the common cold or the flu.
Try a yeast-based probiotic like Saccharomyces boulardii, which is commonly sold under the brand name Florastor, to help fight a recurrence of C. diff if it occurs.
"Almost one in four CDAD patients will experience a recurrence of symptoms after a round of antibiotic therapy alone," says Dr. Raymond. "When a relapse occurs, use of Florastor during the second antibiotic course can help protect against future relapses because it colonizes the gut with S. boulardii, which can help fight recurrent C. diff."
A recent meta-analysis of 31 studies compiled and published in the American Journal of Gastroenterology concluded that S. boulardii is the only probiotic that is effective in fighting recurrent C. diff-associated disease** Additionally, an article in the March 2006 issue of Gastroenterology and Hepatology showed that use of S. boulardii provided an almost 50 percent decrease in subsequent recurrence among patients who suffered recurrent CDAD symptoms.***
"Because Florastor (S. boulardii) is a yeast and not a bacteria, it is not killed by the strong antibiotics that are being used to kill the C. diff bacteria, so it survives in the digestive tract," says Dr. Raymond. "When the 'baby' C. diff emerge from their spores, they are greeted by a well-colonized gut, rather than an empty playground."
Florastor (http://www.florastor.com) is available in most retail chain pharmacies, at independent pharmacies and drugstore.com. It can be purchased in bottles of 10 capsules for a suggested price of $10.95, 50 capsules for a suggested price of $43.95, or a 20-capsule blister pack for a suggested price of $21.95.
-0-
*Garey KW, Sethi S, Yadav Y, et al. Meta-analysis to assess risk factors for recurrent Clostridium difficile infection. J Hosp Infection. 2008;70:298-304.
**McFarland, L.V. (2006). Meta-analysis of probiotics for the prevention of antibiotic- associated diarrhea and the treatment of Clostridium difficile disease. American Journal of Gastroenterology. 101, 812-822.
***Huebner, E.S., & Surawicz, C.M. (2006). Treatment of recurrent Clostridium difficile diarrhea. Gastroenterology and Hepatology. 2, 203-208.
###