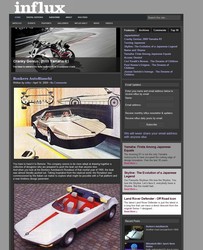 Cars are an essential part of our lives, and whatever your opinions of them, the aesthetics, technology and future of cars and bikes are increasingly relevant
(Vocus) April 15, 2009
Taking a sideways look at global car and bike culture, with the emphasis on the cool, the rare, the classic and the innovative, Influx appeals to anyone who has ever cared about cars and bikes and their place in the modern world.
"Cars are an essential part of our lives, and whatever your opinions of them, the aesthetics, technology and future of cars and bikes are increasingly relevant," says Michael Fordham, chief writer on Influx. " We'll tell stories about the people, places and spaces that make up car culture from all around the world."
And with the ongoing environmental, energy and economic crisis, the place of the car in our culture becomes increasingly relevant.
"In the current climate some of the most dynamic design and engineering energies are being directed at the automotive industry. We'll document the leading edge of vehicle innovation and green technologies as well as celebrate the coolest, most beautiful, most interesting and iconic vehicles that have graced the last 100 years."
The site is composed of a daily blog with words, pictures and moving image, as well as a series of themed monthly features, where in-depth reporting is combined with the use of some of best photographers and illustrators working today to go deep into the breadth and depth of car and bike culture from around the world.
The opening monthly feature focuses for example, on Japan and all things automotive – from a series of portraits of Japanese car obsessives, the story of how the Japanese car industry took over the world, to a focus on Yamaha's cutting edge Cross plane Crank technology. Future themes include 'the Art of the Motor', 'the French Touch' and the 'California Roadtrip' edition.
"Influx goes deeper into car culture," says Fordham. "As well as highlighting the most interesting new vehicle releases from the Auto industry worldwide, Influx tells tales from the outlands inspired with a new energy created by tough times in the mainstream.
"We are intensely passionate about cars and bikes, and we'll tell stories that will inspire our readers, create debate and have fun with the ideas and sensations thrown up by motors," he continues.
"Cars and bikes move us. We want anyone who shares this passion to join us on the ride."
Visit http://www.influx.co.uk for more.
Influx is published by Adrian Flux Insurance Services. Adrian Flux aims to offer cheaper car insurance and has a huge range of policies for the motoring enthusiast. For details contact the Adrian Flux quote line on 0800 505 3000, email the company at quotes@adrianflux.co.uk or see the Flux homepage on http://www.adrianflux.co.uk
Flux relaunches Influx Fordham - Apr-09
PRESS ENQUIRIES:
Toni Turner or Alison Haynes at The Publicity Works
Tel: 01263 761000
Gerry Bucke of Adrian Flux Insurance Services: 0800 505 3000
###