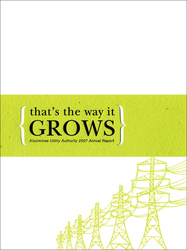 Kissimmee, FL (PRWEB) April 17, 2009
Kissimmee Utility Authority's 2007 annual report has received a silver ADDY award from the Third District of the American Advertising Federation (AAF). The report previously earned a gold ADDY at the local level of competition.
Conducted annually by the AAF, the ADDY Awards is a three-tier competition recognizing creative excellence and the very best advertising worldwide. Concurrently, all across the country, local entrants vie for recognition as the very best in their markets. At the second tier, local winners compete against other winners in one of 14 District competitions. District winners are then forwarded to the third tier, the national ADDY Awards competition.
KUA's 46-page annual report, titled "That's the Way it Grows," reviews the utility's performance and details how operational seeds planted by the utility blossomed to meet the demands of a growing customer base.
The annual report was produced by KUA's corporate communications department with assistance from graphic design firm Popcorn Initiative, photographer Eric Sutton and illustrator Kim Fox. The report is available online at http://www.kua.com/corporate.
About AAF
The American Advertising Federation (http://www.aaf.org), headquartered in Washington, D.C., acts as the "Unifying Voice for Advertising." The AAF is the oldest national advertising trade association, representing 40,000 professionals in the advertising industry. The AAF has a national network of 200 ad clubs located in ad communities across the country.
About KUA
Founded in 1901, KUA (http://www.kua.com) is Florida's sixth largest community-owned utility providing electric and telecommunication services to 62,000 customers in Osceola County, Fla.
# # #