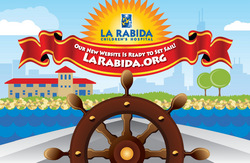 I remember La Rabida as very special place -- just for kids -- where my happiness mattered as much as my health
Chicago, IL (PRWEB) April 21, 2009
La Rabida Children's Hospital launched a newly designed website today, greeting online visitors with a fresher look and a more interactive experience while showcasing the hospital's scenic Lake Michigan location. The site also spotlights actor Joe Mantegna, a former patient, who is helping the hospital reconnect with past patients from the 1940s - 1960s.
The nautical-inspired graphics and kid-friendly colors mirror the décor of La Rabida's award-winning facility. In one cyber stop, web cruisers are treated to a port of call that simultaneously anchors the hospital to its rich history and sets a course for the very important role it plays as Chicago's only specialty hospital for children with special needs.
Four portholes flip open to offer sweeping views of hospital programs, events and facilities. Mantegna, who spent five months at La Rabida as a child, peers out from the first window, which offers a glimpse of his experiences at the hospital.
In a video clip, Mantegna reminisces about his care at La Rabida and encourages other former patients to reconnect with the hospital as part of the Patient Alumni Campaign.
"I remember La Rabida as very special place -- just for kids -- where my happiness mattered as much as my health," says Mantegna, who millions will recognize as cool agent David Rossi on the CBS Criminal Minds series.
Other site highlights include Kids Corner, which beckons children with the lure of a puzzle, maze or word find. Web page after web page features bright photographs of patients, volunteers or employees and heartwarming quotes about La Rabida's impact on their lives.
Site designer, DC Interactive Group is a full service web design application development company based in Elgin, IL. The group also specializes in online marketing, digital TV commercials, DVD presentation and production.
La Rabida Children's Hospital provides comprehensive care for children who are chronically ill with lifelong medical conditions, developmental disabilities and those who have been abused. Located on the shore of Lake Michigan at Jackson Park, La Rabida has served the children of Chicago for more than 110 years.
Contact:
Zion Banks
773.256.5955
zbanks @ larabida.org
###