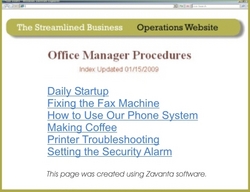 Among the top reasons Americans give for not taking vacation days were: Nothing will go right if I'm not there to supervise. Too many crises piled up last time I took off --cited in an 2007 Expedia.com survey
St. Louis, MO (PRWEB) April 24, 2009
Why do an estimated 41,550,000 Americans never take vacation from work or even a day off? For many, it is fear of what will happen while they are gone. "Among the top reasons Americans give for not taking vacation days were: Nothing will go right if I'm not there to supervise. Too many crises piled up last time I took off --cited in an 2007 Expedia.com survey"
A humorous video from COMPROSE Inc now available on YouTube, illustrates the chaos that results when key employees leave the office and their replacements don't know how to do the simple everyday tasks that keep the office operating.
Entitled: Another Day at Snafu Inc --The Office Manager's Day Off the 2 minute video shows what happened the day Office Manager, "Steve Martinez" left his Assistant Manager in charge without training or an Operations Manual covering routine tasks.
The Office Manager's Day Off is the first in what COMPROSE, Inc. plans as a series of videos illustrating the costly problems organizations create for themselves when they fail to effectively capture and share mission-critical task knowledge and best practices unique to their operations.
Since 1987 COMPROSE, Inc. has worked with hundreds of organizations to streamline and standardize their operations. COMPROSE is a single-point resource for any organization that wants to bring more structure to the people side of their business. Hundreds of organizations already use COMPROSE's Zavanta software to standardize operating procedures and best practices. The COMPROSE website highlights client success stories including improved performance, faster ramp-up, reduced training costs, and streamlined regulatory compliance.
COMPROSE also provides informational whitepapers and authors a series of blogs on operations improvement and training including All Systems GO! focused on operations management and standardization, Everyone Knows What Do, focused on corporate training best practices, and Policy and Procedure Best Practices focused on getting the highest return on investment when creating standard operating procedures, operations manuals and employee training guides.
###