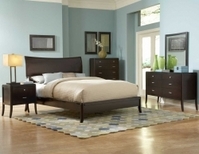 Since the beginning, Homelegance furniture has been extremely popular with a wide range of our customers. Now, with the launching of HomeleganceFurnitureOnline.com, we can offer all of the brand's great furniture in one location
East Brunswick, NJ (Vocus) April 28, 2009
Homelement.com – a leading retailer of stylish, affordable home furnishings – proudly announces the launch of its specialty store, HomeleganceFurnitureOnline.com.
HomeleganceFurnitureOnline offers the complete Homelegance furniture line at reduced prices. The brand's entire range is available, including Homelegance bedroom set, dining sets, sofas, sectionals, home office collections, TV stands, cocktail tables, counter-height dining sets, kid's furniture, fireplace furniture, and much more.
With huge demand for Homelegance furniture—especially given the current economic climate—HomeleganceFurnitureOnline is poised for success. All items feature Homelegance's renowned quality. This high level of quality and craftsmanship has made Homelegance a favorite brand worldwide.
HomeleganceFurnitureOnline.com's management understands some potential customers might still be leery of shopping over the internet. To foster peace of mind, the store's mission is providing "Furniture Shopping Made Simple."
HomeleganceFurnitureOnline.com achieves this vision by offering a seamless blend of Selection, Quality, Better Savings, and Professional Service. Like its parent company, Homelement, HomeleganceFurnitureOnline.com offers a rich shopping experience: prompt shipping, responsive & secure servers, complete order tracking, to name a few conveniences. All items are easily-viewable from consumers' homes, mostly in stock and are available for quick delivery. For these reasons, HomeleganceFurnitureOnline.com is poised to be a market leader.
Homelement Stores, Inc., parent company of Homelement.com, is excited about the upside potential for HomeleganceFurnitureOnline.com. "Since the beginning, Homelegance furniture has been extremely popular with a wide range of our customers. Now, with the launching of HomeleganceFurnitureOnline.com, we can offer all of the brand's great furniture in one location," states Joice Tan, Operations Manager for Homelement.
About Homelement.com
Homelement.com is a leading retail supplier of stylish and elegant home furnishings with more than a dozen years of industry experience. Homelement has recently expanded their operations to a web-based platform that makes browsing and purchasing top-of-the-line furniture easier than ever. Visit http://www.homelement.com for more information.
About HomeleganceFurnitureOnline.com
HomeleganceFurnitureOnline, a Homelement Store, offers the entire Homelegance furniture line at discounted prices. Available are bedroom collections, dining sets, sofas, sectionals, home office collections, TV stands, cocktail tables, and much more.
# # #