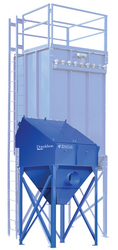 They are the most qualified people you can find to understand how new products reduce energy costs, ensure safety and improve productivity on the manufacturing plant floor.
Minneapolis, MN (PRWEB) April 29, 2009
Donaldson Company (NYSE:DCI), a leading worldwide manufacturer of filtration systems and parts, announced today that Donaldson Torit's Smaller and Smarter Torit® PowerCore® dust collector with PowerCore filter packs won Plant Engineering's coveted 2008 Product of the Year award. Chosen by manufacturers and readers of Plant Engineering, the competition recognizes Torit PowerCore technology as a top tier silver award winner in the Environmental Safety & Health category.
"Winners are selected by a vote of qualified Plant Engineering subscribers - the people who buy, specify and use these products on a daily basis," said Plant Engineering editor Bob Vavra. "They are the most qualified people you can find to understand how new products reduce energy costs, ensure safety and improve productivity on the manufacturing plant floor."
Product of the Year winners were announced by Plant Engineering in April 2009. In late 2008, Torit PowerCore also won a Breakthrough Products of the Year award from Processing magazine.
Smaller is Smarter
The first major innovation for baghouse dust collection in decades, Torit PowerCore dust collectors are smaller and smarter than traditional baghouse technology. Stand-alone Torit PowerCore dust collectors are up to 50 percent smaller than traditional baghouses; while bin vent models are up to 70 percent smaller than traditional technology. Just seven inches tall, one PowerCore filter pack replaces six traditional eight-foot long fabric filter bags, and the filter packs are easy to remove with one hand in minutes without using tools.
Torit PowerCore dust collectors are both significantly smaller and extremely smarter than traditional baghouses due to the combination of proven and patented Ultra-Web® nanofiber surface-loading filter media technology and the PowerCore fluted corrugated media configuration.
Engineered with this proprietary combination of technologies, PowerCore filter packs don't succumb to bridging and continue to filter longer with high efficiency and minimal servicing. In addition to filtering smarter, smaller-sized Torit PowerCore dust collectors provide manufacturers with new options to install at the point of use and can eliminate the need for complicated ducting or a large, energy-consuming central dust collector. With Torit PowerCore, manufacturers can now better maximize space on the plant floor while containing costs and improving filtration.
For more information including case studies and a technical white paper visit Donaldson.com/toritpowercore.
About Donaldson Company, Inc.
Donaldson Torit is the brand name under which Donaldson's industrial filtration products are sold. Donaldson Company, Inc. is a leading worldwide provider of filtration systems that improve people's lives, enhance our Customers' equipment performance, and protect our environment. We are a technology-driven company committed to satisfying our Customers' needs for filtration solutions through innovative research and development, application expertise, and global presence. Our employees contribute to the Company's success by supporting our Customers at our more than 100 sales, manufacturing, and distribution locations around the world.
Donaldson is a member of the S&P MidCap 400 and Russell 1000 indices, and our shares trade on the NYSE under the symbol DCI. Additional information is available at http://www.donaldson.com.
###