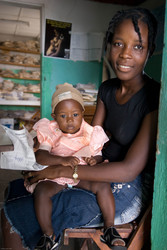 Our Packed with Love campaign is a unique way to educate people about the critical healthcare needs that exist around the world
(Vocus) May 4, 2009
Catholic Medical Mission Board (CMMB)—the leading U.S. based Catholic charitable organization focused exclusively on global healthcare—launches a new interactive website, Packed With Love, featuring its medical donation program.
Visitors to http://www.PackedWithLove.org are encouraged to put their names on medical shipments delivered internationally by CMMB throughout the year, part of an ongoing effort to involve the greater public in this life-saving program. Those who join the campaign will have their names sent along with an actual shipment, and will be updated on its journey and the impact the shipment has on those it reaches.
Last year alone, CMMB set a new record for donations of pharmaceuticals and medical supplies, sending 556 shipments of medicines and supplies worth nearly $190 million dollars, free of charge and without discrimination, to people in need around the world.
"Our Packed with Love campaign is a unique way to educate people about the critical healthcare needs that exist around the world," said John F. Galbraith, CMMB's President and Chief Executive Officer. "By engaging and empowering a broader audience here in the United States, CMMB will continue our shipments of life-saving medicines to some of the most in-need people around the world," Galbraith continued.
Since 1928, CMMB's medical donation program has distributed over $1.7 billion of medicines and medical equipment to improve healthcare in developing nations the world over.
Visit http://www.PackedWithLove.org to send love and support to those in need.
Catholic Medical Mission Board
Founded in 1928, CMMB (Catholic Medical Mission Board) is the United States' leading faith-based charitable organization focused exclusively on global healthcare. CMMB represents an unmatched capability by combining its on-the-ground programs, medical volunteers, and medical donations efforts in an integrated way. Since no other global healthcare organization can deliver all these capabilities simultaneously, CMMB enjoys a unique position of leadership in helping the sick, poor and disadvantaged. CMMB services are provided with respect and compassion for all human beings, without discrimination. CMMB collaborates with partners to support healthcare projects in resource-poor countries that address HIV and AIDS, child health and neglected diseases. For more information about CMMB, visit http://www.cmmb.org.
###