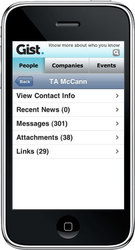 Gist combines two of our core investment themes - the implicit web and email
Seattle, WA (PRWEB) May 5, 2009
Gist, Inc. today announced it has closed a $6.75 million round of funding led by Foundry Group with participation by its founding investor Vulcan Capital. The investment will be used for product development efforts and to expand operations.
"Gist combines two of our core investment themes - the implicit web and email," said Brad Feld, Managing Director of Foundry Group. "We think that taking something overdue for innovation like the inbox and connecting it with the flow of information on the web to make it more meaningful to the end-user is a huge opportunity."
The company, led by T.A. McCann, was started and initially funded by Microsoft co-founder Paul Allen's Vulcan Capital. After extensive prototyping and research, McCann and Vulcan launched the company in mid-2008 with its headquarters in Seattle, WA. McCann's previous experience includes a senior role with Microsoft's Exchange Server Group and founder of several companies focused on mobile applications, social media, and email.
"We believe Gist is taking a unique approach to address a large market opportunity and adding Foundry Group as an investor will help us accelerate progress and build on the momentum we have achieved so far," said Steve Hall, Managing Director of Vulcan Capital. "Raising money in this tough market environment is a testament to both the company's progress and size of the opportunity"
Currently in closed beta, Gist integrates with Microsoft Outlook and Gmail intelligently aggregating, organizing and prioritizing emails, links, attachments, and related information (news, blogs, etc.) for all the people and companies in the inbox. Additionally, Gist integrates with LinkedIn, Facebook and Twitter bringing feeds and information together across social networks. Users benefit from being able to access Gist on the web, inside applications like Outlook, or on their mobile device with iPhone support currently available.
"We are all busy working to build stronger relationships that lead to business success," said Gist co-founder and CEO T.A. McCann. "Gist is constantly working on your behalf to help you gain new insights and save time. Our beta group spans small business CEOs, Fortune 500 professionals, and early technology adopters who are all finding unique and compelling value from Gist."
Gist was also recently recognized by Gartner, Inc. in their "Cool Vendors in the High Performance Workplace, 2009" research report(1). One of the key findings of the Gartner report states, "blending e-mail content with Internet content can vastly increase the visibility users have about people and companies they work with. This could be a boon for sales and customer support."
To learn more about Gist or to sign up for the beta, please visit http://www.gist.com
About Foundry Group
Foundry Group is a venture capital firm focused on investing in early-stage information technology, Internet, and software startups. In addition to providing the necessary venture capital to get a company up and running, Foundry Group is committed to leveraging their experience in starting and growing companies, expertise in the technology industry, and network of relationships to help great entrepreneurs turn great ideas into great companies. Foundry Group is based in Boulder, Colorado, and invests in companies located across the United States. For more information, visit http://www.foundrygroup.com.
About Vulcan Capital
Vulcan Capital is the private investment group of Vulcan Inc., the project and investment management company founded by Paul G. Allen in 1986 to manage his personal and professional endeavors. Vulcan Capital oversees a multibillion dollar portfolio across diverse industry sectors and investment asset classes. Investments range from early stage venture investments to public entity value investing, leveraged buyouts, acquisitions, and distressed situations. Vulcan Capital's mission is to produce superior returns over the long-term across a diversified investment portfolio. Visit Vulcan Capital online at capital.vulcan.com.
About Gist, Inc.
Gist, Inc. was incorporated in May 2008 and is headquartered in Seattle, WA. Gist helps build stronger relationships by connecting the inbox to the web to provide business-critical information about the people and companies that matter most. For more information, go to http://www.gist.com
For more information contact:
Robert Pease
Gist Marketing
206.327.0397
The names of actual companies and products mentioned herein may be the trademarks of their respective owners.
1. Gartner, Inc. "Cool Vendors in the High Performance Workplace, 2009 by Toby Bell, Matthew W. Cain, Michele Cantara, Thomas Otter, March 13, 2009
###