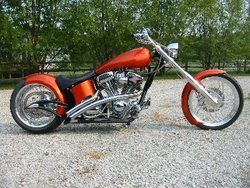 Syracuse, N.Y. (PRWEB) May 11, 2009
A product liability trial arising out of an alleged custom motorcycle defect begins today in the United States District Court for the Northern District of New York. The plaintiff's claims against the defendant, a California-based company with a worldwide distribution network, include defective design, defective manufacturing, inadequate warnings, breach of warranty and negligence. The Honorable David E. Peebles, United States Magistrate Court Judge, will preside over the trial, which is expected to last two weeks.
The plaintiff in the lawsuit captioned Marcus J. (Marc) Mathews v. Big Bear American Made Choppers, Inc. (Case No.: 5:04-cv-1206), is a forty year old resident of Solvay, New York. He is represented by Anthony S. Bottar and Michael A. Bottar, of the Syracuse, New York law firm of Bottar Leone, PLLC.
According to the complaint, on June 13, 2004, the plaintiff was riding his three month old Venom ProStreet motorcycle in Alton, New Hampshire when the front fender assembly failed causing the nearly 10 pound fender to come into contact with and lock the front tire of the motorcycle. The plaintiff then lost control of the motorcycle, crashed into another motorcycle, and was thrown into a ravine where he sustained severe arm and leg injuries. After more than two years of surgeries, the plaintiff's right leg was amputated above the knee.
According to court records, the Alton Police Department, with assistance from New Hampshire State Troopers, conducted an investigation after the accident which revealed that two of the four ¼"-20 screws intended to hold the motorcycle's front fender to the bike had fallen out prior to the accident. Eye witness accounts, a tire imprint on the underside of the front fender, and a distinct skid signature left on the roadway led the police to conclude that a defect in the motorcycle caused the accident.
After three years of discovery, the plaintiff's attorneys claim that Big Bear American Made Choppers had actual or constructive notice, more than one year prior to the plaintiff's accident, that the method it selected to attach the Venom's front fender to its lower legs was inadequate.
Bottar Leone, PLLC, is a trial law firm based in Syracuse, New York. Since 1983, the Firm's legal team has limited its practice to representing the victims of negligence and malpractice throughout the State of New York.
For additional information on the news that is the subject of this release, contact:
Jillian Owdienko
Director of Public Relations
Bottar Leone, PLLC
315-422-3466
http://www.bottarleone.com
###