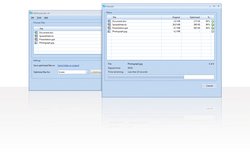 Microsoft is pleased that Neuxpower has earned the Certified for Windows Vista software logo for their NXPowerLite application
London, UK (PRWEB) May 14, 2009
British software company Neuxpower today announced that the recently-released NXPowerLite Desktop Edition v4 is now "Certified For" Windows Vista.
NXPowerLite technology optimizes Microsoft Office files* and JPEG images, reducing them to a fraction of their original size. NXPowerLite Desktop Edition integrates with email clients** to automatically optimize email attachments as they are sent. Recipients don't need NXPowerLite to open or edit the attachments.
NXPowerLite Desktop Edition makes files easier to use, store and share. It improves your productivity, unblocks congested inboxes and enables the delivery of large email attachments.
"Our customers come to us for high quality software that offers a significant return on investment and delivers the best customer experience" said Mike Power, Neuxpower's CEO. "By working with Microsoft, we feel confident that NXPowerLite will provide users of Windows Vista with enhanced reliability and compatibility."
"Microsoft is pleased that Neuxpower has earned the Certified for Windows Vista software logo for their NXPowerLite application," said Brad Goldberg, General Manager for Windows Vista Product Management at Microsoft Corp. "By certifying their applications, Neuxpower is letting their customers know that their product has met explicit standards of reliability and quality, and has been tested and proven to deliver a superior experience with a PC running Windows Vista."
NXPowerLite Desktop Edition costs just $45 USD for a single-user license, with discounts available for bulk licensing. It's available to purchase immediately from http://www.neuxpower.com and all good software resellers. A fully functional trial version can be downloaded from the website. NXPowerLite is also available as a File Server Edition.
About Neuxpower:
Established in 1997, Neuxpower Solutions is a global leader in file optimization software. NXPowerLite technology is designed to help organizations manage the impact of large Microsoft Office files on their business. Our desktop and server solutions are used by more than one million people worldwide.
Microsoft Word documents, Excel spreadsheets and PowerPoint presentations
** Lotus Notes, Microsoft Outlook, Outlook Express and Windows Mail
All product and company names herein may be trademarks of their respective owners.
###