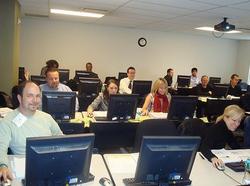 Minneapolis, MN (PRWEB) May 15, 2009
TopRank® Online Marketing and the Direct Marketing Association (DMA) are continuing their partnership by delivering the second in a series of educational workshops on social media marketing, Social Media Smarts: Introduction to the Social Web, Tools and Tactics. Next month's workshop blends components of Search Engine Optimization (SEO) into its training.
Leading the workshop will be Internet marketing veteran and recognized social media evangelist Lee Odden, CEO of TopRank Online Marketing. Odden will introduce participants to the marketing opportunities available with social media through best and worst practices examples.
"The Social Media Smarts workshop is distinctly different from many other social media training events because it focuses on both strategy and tactics," said Odden. "Plus there's a keen sensitivity to leveraging SEO and increased search engine visibility."
Social media empowers today's marketers in the face of slimming budgets. By properly leveraging a balance of social media and SEO, marketers gain competitive advantage through customer engagements and social interactions within the online marketplace.
The Social Media Smarts workshop will provide attendees insight into: blogging and blog marketing, social networks, microblogging, social news and bookmarking, video sharing, image and audio sharing, wikis and social media analytics. Content included in the Social Media Smarts workshop has been featured on Mashable and Online Marketing Blog.
"Are you kidding? Lee Odden knows more about online tools and strategies than most ever will," said John Jantsch, owner of Duct Tape Marketing. "But, he also has a great knack for sharing, demystifying, and teaching these seemingly technical topics in ways that allow anyone to make practical use of them."
Rounding out the workshop is a social media strategy exercise that will empower attendees to create their own social media strategy and develop a framework for building a business case within their organizations.
The second in a series of Social Media Smarts workshops offered by Lee Odden and the DMA will be conducted in New York, June 4th and 5th, at the Microtek training facility in lower Manhattan.
Join Lee Odden and the DMA at:
Social Media Smarts Workshop
Direct Marketing Association Seminar Center
1120 Avenue of the Americas
Between 43rd and 44th streets
13th Floor
New York, NY 10036
June 4 - 5, 2009
Register for the 2-day seminar online:
Social Media Smarts Workshop
Save $250 by using the discount code "Social" when registering
About Lee Odden and TopRank Marketing
TopRank Marketing is a leading Internet marketing and digital PR agency, offering strategic SEO and digital public relations consulting, training and implementation for Fortune 500 companies.
Lee Odden, CEO, is a veteran online marketer with over 10 years of SEO and digital PR experience. Lee has been cited for his expertise by The Economist and DM News as well as numerous books and industry web sites. He is the editor of Online Marketing Blog where he writes about the intersection of search marketing, social media and online public relations.
Website: http://www.toprankmarketing.com
Blog: http://www.toprankblog.com
About Direct Marketing Association (DMA)
The Direct Marketing Association is the leading global trade association of businesses and nonprofit organizations using and supporting multichannel direct marketing tools and techniques. DMA advocates standards for responsible marketing, promotes relevance as the key to reaching consumers with desirable offers, and provides cutting-edge research, education, and networking opportunities to improve results throughout the end-to-end direct marketing process. Founded in 1917, DMA today represents more than 3,400 companies from dozens of vertical industries in the US and 48 other nations, including half of the Fortune 100 companies, as well as nonprofit organizations.
Website: http://www.the-dma.org
# # #