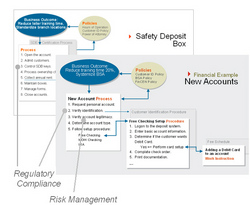 Using Zavanta is so much faster to get consistent procedures to all the branches. Everybody in the company has one place to look up correct P&Ps and everyone can understand them.
St. Louis, MO (PRWEB) May 27, 2009
On Wednesday, May 20, 2009, COMPROSE Inc co-hosted the inaugural Zavanta User Group Web Conference for the banking and financial services industry with featured customer panelist First Services L.P. / First Bank. This web conference focused on best practices for creating and distributing policy and procedures to support business results and support training in bank branch and back office operations.
Conference attendees included Zavanta software users representing banking and financial services companies from across the U.S. The web forum provided a unique and convenient way for companies to share insights on industry challenges and to share how they are utilizing Zavanta software to create and access policies and procedures in their organizations. COMPROSE staff experts were also on hand to answer questions and offer solutions.
The 90 minute conference began with a presentation/discussion led by customer panelist First Services /First Bank, Inc. One of the largest privately-owned bank holding companies in the United States serving customers in 215 locations in 5 states, First Bank has used COMPROSE's Zavanta software since 2000 to support a highly successful expansion process. First Bank presented slide examples of their extensive Zavanta-created policy and procedure website and fielded questions from the conference attendees. First Bank's innovative approach provides consistent, standardized procedures for all Branch Operations and Back Office functions and is being used successfully throughout all 215 branches. As their Policies and Procedures Manager told the group, "Using Zavanta is so much faster to get consistent procedures to all the branches. Everybody in the company has one place to look up correct P&Ps and everyone can understand them."
In a free form roundtable discussion, attendees also discussed a series of issues and challenges facing the industry and shared experiences and advice. A few of the key topics discussed included the growing regulatory climate and growing emphasis on standardizing operations policies and procedures in the industry; the need to provide employees with rapid access to detailed policy and procedure information across their companies; the need to demonstrate to auditors and regulators that staff follow the latest and greatest standard procedures; the need to support cross training and job sharing; the need to control revisions and provide information security.
Session Leader, Kathy Anton concluded the conference with some tips and best practices for applying Zavanta software to address many of these key issues including the importance of structuring SOP content to allow easy "drill down" so people can find the level of detail they need without becoming overwhelmed; ·providing good structure to support good search results; building in feedback tools so employees can ask questions and point out new information
The special interest User Group will periodically convene to discuss areas of common interest and exchange best practices for standardizing procedures.
Since 1987 COMPROSE, Inc. has worked with hundreds of organizations to streamline and standardize their operations. COMPROSE is a single-point resource for any organization that wants to bring more structure to the people side of their business. Hundreds of organizations already use COMPROSE's Zavanta software to standardize operating procedures and best practices. The COMPROSE website highlights client success stories including improved performance, faster ramp-up, reduced training costs, and streamlined regulatory compliance.
COMPROSE also provides informational whitepapers and authors a series of blogs on operations improvement and training including All Systems GO! focused on operations management and standardization, Everyone Knows What Do, focused on corporate training best practices, and Policy and Procedure Best Practices focused on getting the highest return on investment when creating standard operating procedures, operations manuals and employee training guides.
###