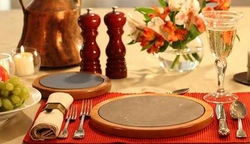 When you pre-heat the Dining Stones in the oven for 15 minutes and place them on the table, they keep your dinner plate so warm that a chicken breast will emit steam when you cut into it. Yet the Dining Stone does not continue to cook your food
Batavia, Iowa (PRWEB) May 27, 2009
In order to manage the growing demand for their unique product, Roccia Bollente Dining Stones™ has built a new fulfillment center at their company headquarters in Batavia, Iowa.
Dining Stones™ are natural granite plate-warmers that keep food warm at the table without using electrical cords. "When you pre-heat the Dining Stones in the oven for 15 minutes and place them on the table, they keep your dinner plate so warm that a chicken breast will emit steam when you cut into it. Yet the Dining Stone does not continue to cook your food," says Deb Chance, who invented the product.
Chance, who is CEO of Roccia Bollente Dining Stones™, unveiled her unique product in September, 2007, transforming the dining experience for customers in North America and Europe. 'Roccia Bollente' means 'hot stones' in Italian. Dining Stones are safe and easy to use.
Dining Stones Make Food Taste Better
Chance explains that since granite is a natural retainer of cold as well as heat, Dining Stones can also be used to chill cold foods, preventing salad from wilting and keeping cold drinks icy to the last drop. Custom-made wooden holders protect the dining table from the heat or cold of the stones.
'I personally don't like the taste of food after it becomes cold and I would catch myself eating too quickly in order to finish while the food was still warm,' says Chance, who is a self proclaimed idea person and gourmet cook. 'And that led to overeating, which is not a healthy choice.'
Handcrafted by Local Businesses
Chance says Dining Stones is dedicated to offering innovative products made in Iowa. For instance, the granite Dining Stones are precision-cut using sophisticated waterjet technology by Fairfield-based Creative Edge Master Shop, Inc., the largest independent waterjet fabrication and design company in the nation.
The hand-crafted wooden tray holders are fashioned in beautiful cherry, alder and ash by Wood Components & Technologies, Inc., of Cedar Falls, a leader in precision manufacturing of fine wood trim and parts.
Roccia Bollente Dining Stones are currently available to consumers at http://www.DiningStones.com. The company eventually plans to market the products to restaurants, caterers, wholesalers, kitchen stores and gift shops.
For more information, or to schedule an interview with Deb Chance, please email Deb (at) DiningStones (dot) com.
###