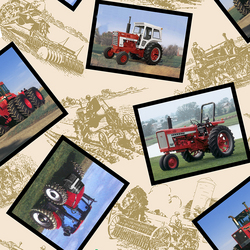 These are perfect for making tote bags or small quilts
Racine, WI (PRWEB) May 27, 2009
Eight new "retro" International Harvester, Farmall®, McCormick and Case IH fabrics are available for quilters and crafters. Thanks to overwhelming demand for the first six International Harvester branded fabrics in their International Harvester V.I.P collection, Cranston and Case IH are expanding the line.
"In addition to eight new designs and five new blender fabrics, we're thrilled to offer pre-cut fabric packaged for convenience," says Sarah Pickett, Case IH licensing and merchandising. The new 1-yard and 3-yard cuts are available, three per pack, in all 19 designs.
"Pre-cut packages make it easier for our customers to order - and for Case IH dealers to carry these fabrics in-store," Pickett adds. "Our dealers have been getting fabric requests for years, but it's safe to say that most aren't set up to measure and cut quilt and craft material."
Other new packaged fabric cuts include two assortments of 8-piece 18" x 22" Fat Quarter bundles:

The History/International Harvester 2-yard bundle, three per pack
The Farmall/International Harvester 2-yard bundle, three per pack
Also available is a Double Face Quilted 1.5-yard cut package. "These are perfect for making tote bags or small quilts," says Jodi Beckett, Cranston Executive V.P. Marketing. The Double Face Quilted fabric, called Farmall Tractors, is on 10-yard bolts and is 100% cotton with poly filling. The other fabrics are approximately 15-yard bolts, made of 100% cotton, and have a cutting width of approximately 44-45 inches.
"Our customers love the look of these International Harvester and Farmall fabrics," Beckett adds. "They're perfect for creating magnificent quilts, crafts, drapes and much more."
The colorful fabrics have names like Textured Tractors, Tractor Fields, Tractor Patch and Tractor Square Toss. "And the five new blender fabrics are available in blue, brown, yellow, cream, and of course, red," says Pickett.
Besides participating Case IH dealerships, these products can be purchased at fabric stores and online fabric shops.
Sewers and crafters interested in buying close to home also can call Cranston's customer service line at 800-876-2756. "We'll be happy to let them know what stores in their local area carry International Harvester fabrics," says Beckett. View all the designs and find new project ideas at Cranstonvillage.com.
Case IH is a global leader in agricultural equipment, committed to collaborating with its customers to develop the most powerful, productive, reliable equipment - for those who demand more. With headquarters in the United States, Case IH has a network of dealers and distributors that operates in over 160 countries. Case IH provides agricultural equipment systems, flexible financial service offerings and parts and service support for professional farmers and commercial operators through a dedicated network of professional dealers and distributors. Productivity enhancing products include tractors; combines and harvesters; hay and forage equipment; tillage tools; planting and seeding systems; sprayers and applicators; and site-specific farming tools. Case IH is a brand of CNH (NYSE: CNH), a majority-owned subsidiary of Fiat Group (FIA: MI).
For more information, call 1-877-4CASEIH or visit us on the World Wide Web at http://www.caseih.com/na.
###