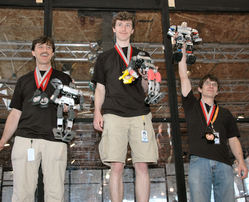 What makes Robogames unique is the fact that absolutely anyone can compete
San Francisco, CA (PRWEB) June 5, 2009
Get ready for RoboGames 2009! Officially declared by the Guinness Book to be the World's largest open robot competition, RoboGames is the only science-slanted sporting event to make it on ESPN SportsCenter *and* in Scientific American!
"Watching the technology evolve and change at this event from year to year is fascinating. With the resurgence of the DIY movement - the makers, the experimenters, the garage builders - knowledge and building just for its own sake translates to an amazing array of developing skills and happy technological accidents," said David Calkins, founder of RoboGames.
Robots from every continent are rocketing into San Francisco, the place where it all began, to compete in the spirit of technological discovery and sporting competition (with the tiniest dash of Gold Medal bloodlust)! This years attendees come from Australia, Austria, Brazil, Canada, Colombia, Egypt, Hong Kong, India, Indonesia, Iran, Japan, Mexico, Peru, Russia, South Korea, UK, and the United States. Can the UK's 5-time gold medalist "Ziggy" retain it's lead for an amazing 6th year? Will Brazil finally sweep the combat classes? Can Team USA regain the top spot in humanoid soccer, having lost a heartbreaking defeat to Austria?
This year's event will host over 70 different competitions, including 18 different events just for walking humanoids. Large scale combat robots will fight to the death behind bulletproof glass, thrilling the crowd with crashing, smashing, flame-throwing, and miscellaneous wanton destruction. The combat robots, weighing as much as 340 pounds, are what draws most people to the event, but many stay for the AI based sumo robots, soccer bots, and kinetic art that fills out the venue.
But that's not all - other events include kung-fu humanoids, hockey bots, fire fighting competitions, autonomous explorer bots (like the Mars Rovers!), art bots, bartending robots, and mechanical marvels that defy description! The newest event is "Mech Warfare."
"What makes Robogames unique is the fact that absolutely anyone can compete," says Simone Davalos, co-organizer and combat referee. "Where some competitions are restricted to certain age groups or universities, RoboGames welcomes all competitors. Anyone can compete, regardless of age, gender, education, or affiliation." This years event includes contestants as young as 7 and as old as 72. About 35% of contestants are women/girls.
RoboGames was founded as the ROBOlympics in 2004. Founder David Calkins, who worked with all types of robot competitions, realized the need for cross-pollination between events, as too many robot builders over-specialized within their own field. By bringing builders from combat robotics (mechanical engineering), together with soccer robotics (computer programming), sumo robotics (sensors), androids (motion control), and art robots (aesthetics), robot builders could exchange ideas and learn more.
The second goal of RoboGames was to offer recognition to engineers from around the world in varying disciplines with consistent rule-sets and low-cost or free contestant fees. RoboGames never charges kids or primary/secondary schools an entry fee. By offering gold, silver, and bronze medals, and inviting the best robot builders from countries other than just the US, RoboGames gives everyone a chance to excel and compete on a level playing field.

"World's Largest Robot competition" -The Guinness Book of World Records
"The best robots compete in RoboGames, just as the best athletes train for the Olympics. - Discover Magazine
"North America's Top Ten Best Geek Fests" - Wired Magazine
"SportCenter Top Ten" - ESPN SportsCenter Media
Friday is the "Judd-Feldstein-Bruce Free Kids Day" (no admission charge for kids 17 and under). Kids from all over the Bay Area come and see the future! Robot Combat and Robot Soccer will begin in full force at 1pm each day.
In between competitions, attendees can explore the RoboGames midway, where one-of-a-kind vendors and eminent causes will display their wares and messages.
Special Press Interview Opportunity: The event is always open for press, but at 7pm on Friday, the venue closes to the general public, for the VIP and builder party, sponsored by Make: Magazine and Lagunitas Brewing Company. This is a great chance to interview contestants while they take a break from their preparations.
For Immediate Release
Facts at a Glance:
Date: Friday-Sunday, June 12-14, 2009
Time: Noon - 10 PM.
Where: Fort Mason Festival Pavilion, San Francisco California
Cost:
Adults: Advance: $20/day or $55 All 3 Days - At the door: $25/day
Kids 7-17: Advance: $15/ay or $40 All 3 Days - At the door: $20/day
Under 7 free!
Web: http://www.RoboGames.net
Images: Print ready photos at http://robogames.net/pix
Book interviews NOW!
Media Contact: Simone Davalos (415) 307 3482
Special Press Preview June 13th 7 to 12 Midnight call Simone
About RoboGames: RoboGames was founded as the ROBOlympics in 2004. Founder David Calkins, who worked with all types of robot competitions, realized the need for cross-pollination between events, as too many robot builders over-specialized within their own field. By bringing builders from combat robotics (mechanical engineering), together with soccer robotics (computer programming), sumo robotics (sensors), androids (motion control), and art robots (aesthetics), robot builders could exchange ideas and learn more. The second goal of RoboGames was to offer recognition to engineers from around the world in varying disciplines with consistent rule-sets and low-cost or free contestant fees. RoboGames never charges kids or primary/secondary schools an entry fee. By offering gold, silver, and bronze medals, and inviting the best robot builders from countries other than just the US, RoboGames gives everyone a chance to excel and compete on a level playing field. * "World's Largest Robot competition" -The Guinness Book of World Records * "North America's Top Ten Best Geek Fests" - Wired Magazine * "SportCenter Top Ten" - ESPN SportsCenter Media Contact: Simone Davalos (415) 307 3482
###