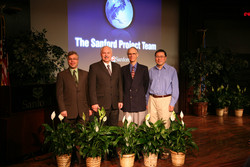 The Sanford Project has tremendous momentum
Sioux Falls, SD (Vocus) June 6, 2009
A research team assembled from around the globe will lead Sanford Health's efforts to cure type 1 diabetes through The Sanford Project. The goal of The Sanford Project is to cure type 1 diabetes, also known as juvenile diabetes, via the body's natural ability to regenerate beta cells. Today, a newly announced team of international researchers is working to find that cure. This research team includes:
Paul Burn, PhD
Broin Chair, The Sanford Project
A native of Switzerland, Dr. Paul Burn serves as the Broin Chair for The Sanford Project. Previously, Dr. Burn was Senior Vice President of Research and Development at the Juvenile Diabetes Research Foundation (JDRF). He has also held positions at various academic institutions and has published more than ninety articles in some of the most prestigious, scientific journals. He also has background in biotech in big pharma with experience leading project teams successfully. This includes moving drug discovery and development projects forward from the gene, through translational research, into the clinics and in introducing products into the market place. Dr. Burn was trained as a biochemist, cell biologist and molecular biologist and holds a PhD from the Biocenter of the University of Basel, Switzerland.
Alexander Rabinovitch, MD
Associate Director, The Sanford Project
Dr. Alex Rabinovitch (räh-BIN'-o-vitch) joins the team from the University of Alberta in Edmonton, Alberta, Canada. In years prior, Dr. Rabinovitch completed both his bachelor's and medical degree at McGill University in Montreal, Canada, with post-graduate studies completed in Canada, Switzerland and the United States. Known for his expertise in beta cell regeneration in diabetic patients, Dr. Rabinovitch was recently honored with the Excellence in Clinical Research Award from JDRF.
Alexei Savinov, MD
Associate Scientist, The Sanford Project
Dr. Alexei Savinov (sähv-IN'-ahv) is a highly educated and well-trained immunologist and cellular biologist who comes to Sanford from the Burnham Institute for Medical Research in LaJolla, CA. The Russian native has formal training as a medical doctor with doctorate thesis in biochemistry. His main area expertise is with autoimmune insulin-dependent type 1 diabetes.
Da-Qing Yang, PhD
Scientist, The Sanford Project
Originally from China, Dr. Da-Qing Yang (DÄH'-ching YANG) brings to the team his knowledge of cell reprogramming for treating type 1 diabetes. Before joining Sanford Research/USD, Dr. Yang was an Assistant Professor in the Division of Basic Biomedical Sciences at the University of South Dakota (USD). He is one of the first scientists to study diabetes in South Dakota.
"The Sanford Project has tremendous momentum," said Dave Link, Sanford Health Executive Vice President. "We have been able to assemble this top team of researchers in a relatively short timeframe. Typically, it can take years to pull together a similar team, but thanks to the generosity of Denny Sanford and Todd and Linda Broin, we are able to accelerate our initiative to cure type 1 diabetes."
The Sanford Project is one of four initiatives made possible through Denny Sanford's $400 million gift to Sanford Health in 2007. In June 2008, Sanford Health announced the focus of The Sanford Project would be to cure type 1 diabetes. One month later, a $10 million gift from Todd and Linda Broin of Sioux Falls, SD to fund the chair of The Sanford Project accelerated the progress.
"The Sanford Project is a unique opportunity," said Dr. Paul Burn, The Broin Chair, The Sanford Project. "While we don't know what our research will bring, I can guarantee our team will do everything it can to discover, develop and deliver a cure for type 1 diabetes."
The Sanford Project team will collaborate with the Juvenile Diabetes Research Foundation (JDRF), the Burnham Institute for Medical Research in La Jolla, CA and the Diabetes Research Center at the Department of Pathology, Immunology and Laboratory Medicine at the University of Florida School of Medicine.  
"I think of the Sanford Health system as a notable and necessary proving ground for the large and small clinical successes that will be essential for delivering new, life-changing therapies to people with type 1 diabetes," said S. Robert Levine, MD, Board of Chancellors, Juvenile Diabetes Research Foundation International. "The value of successfully piloting programs within Sanford and fine-tuning them based on lessons learned, will benefit people with type 1 diabetes here in Sioux Falls, throughout the United States and internationally."
The Sanford Project research team will be located in the newly acquired Sanford Research building in northeast Sioux Falls. The 300,000-square-foot building includes research space, computer rooms, office space and a full-service cafeteria. In addition, the 71-acre campus includes 40 undeveloped acres, allowing Sanford Health room for expansion.
About Type 1 Diabetes
Type 1 diabetes is an autoimmune disease that affects children, adolescents, and adults, in which the immune system attacks cells in the pancreas that produce insulin, a hormone that enables people to convert food into energy.  People with type 1 diabetes are dependent on insulin for the rest of their life.  But insulin is not a cure, and people with diabetes are at significant risk for a wide range of serious complications, including heart disease, blindness and kidney disease.  As many as three million people in the U.S. have type 1 diabetes.    
About Sanford Health
Based in Sioux Falls, SD, Sanford Health's comprehensive, integrated system includes nearly 440 providers in 128 clinic and satellite clinics. It also includes 23 hospitals, 12 nursing homes, 18 assisted living facilities and congregate living locations, 27 home health services and 19 pharmacies.  With more than 10,000 employees, Sanford Health is the largest employer in the region.  Its primary, 500-bed nonprofit tertiary care hospital in Sioux Falls, SD, serves an average of more than 50,000 inpatients annually. With more than 1.25 million outpatient visits each year, Sanford Health has served the 80,000 square mile, five-state region of South Dakota, Iowa, Minnesota, Nebraska and North Dakota for more than 110 years.  Sanford Health is the largest healthcare system between Denver, CO and Mayo Clinic in Rochester, MN. Its divisions include Sanford USD Medical Center, Sanford Clinic, Sanford Health Network, Sanford Health Plan and Sanford Health Foundation. For more information, visit http://www.sanfordhealth.org or http://www.sanfordproject.org.
###