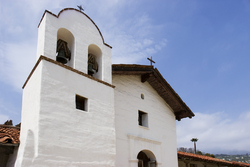 Santa Barbara, CA (Vocus) June 6, 2009
Santa Barbara, CA -- The Santa Barbara Conference & Visitors Bureau and Film Commission (SBCVB&FC) presents "Compliments of Santa Barbara", a savings program designed to help visitors maximize their summer vacation budgets and get back to the basics. In addition to a checklist of 20 classic local experiences, new Compliments offers yield perks and upgrades at 28 participating hotels, restaurants, attractions and events, available through September 30, 2009.
Any local resident would confirm that the best things in Santa Barbara are in fact free. The "Compliments of Santa Barbara" checklist invites visitors to check-in to the local lifestyle with 20 must-do experiences guaranteed to enhance any Santa Barbara vacation and provide a canvas for memories to last a lifetime. Step back in time at historic landmarks, meander through coastal nature preserves, savor scenic views, soak up local culture on State Street and mellow-out at the beach--all of this and more can be experienced with zero impact on the wallet. Download the checklist from http://www.SantaBarbaraCA.com/compliments or pick up a souvenir-style version of the checklist at select area hotels or the Visitor Center (1 Garden Street).
New "Compliments of Santa Barbara" added-value lodging packages serve-up perks ranging from complimentary meal credits and in-room champagne and chocolates, to complimentary passes for tours and attractions and even a third night free. Check out Hot Deals on http://www.SantaBarbaraCA.com for a full list of the complimentary perks and upgrades offered at 15 properties, including bed and breakfast inns, beachfront resorts and boutique hotels. Beyond lodging, cash-in on special Compliments offers at area museums, restaurants and attractions. From wine tours and Channel Islands excursions, to festivals and performances, experience the best of Santa Barbara and save.
Enjoy the good life, Compliments of Santa Barbara.
Contact: Shannon Turner Brooks, Director of Communications
Santa Barbara Conference & Visitors Bureau and Film Commission
805.966.9222
###