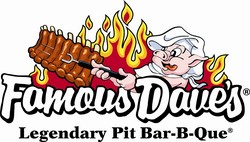 Quest for the Best Famous Fan
Minneapolis, MN (PRWEB) June 10, 2009
Famous Dave's Bar-B-Que has long been a subject of passionate praise from BBQ fans online. This summer, Famous Dave's is on a Quest for the Best Famous Fan, encouraging ten Famous Fans to show off their influence by creating grassroots Famous Dave's campaigns online. The Famous Fans will compete for prizes by designing their own "Make it Famous" campaigns using various social media tools such as Facebook, Twitter, YouTube, MySpace, Flickr, blogs and others to generate buzz and content around their experiences with Famous Dave's.
The "Quest for the Best Famous Fan" promotion offers a chance to win prizes including Famous Dave's food for a year, a trip to Famous Dave's BBQ & Blues club in Minneapolis to meet Famous Dave Anderson and more. Throughout the summer, the Famous Fans will be featured on Famous Dave's website, with information about those Fans and links to their online campaigns. Weekly challenges, such as "Write a Haiku about the 'Que for Two", will guide online followers of the Famous Fans to compete for prizes and join in on the fun. Real Honest Fans of Famous Dave's will have a chance to promote their favorite BBQ in their own words and using their own creative methods all summer long. Famous Dave Anderson is watching the work of the Famous Fans and keeping in touch with them throughout the summer.
For more information on Famous Dave's, visit http://www.famousdaves.com.
"We're so flattered by the many online commentators who are out there creating a buzz for Famous Dave's that we wanted to meet some of the more active fans and find a way to thank them," said Christopher O'Donnell, President and CEO of Famous Dave's.
In connection with the "Quest for the Best Famous Fan" promotion, Famous Dave's has also launched a state-of-the-art rich-internet application to capture the real-time momentum of the Famous Fans campaign online. The application creates the ability to download Twitter status messages ("tweets") and other social media communications relating to Famous Dave's in real time, showcasing the enthusiasm of Famous Dave's fans nationwide on the company's website. The application is running at http://www.famousdaves.com/famous-fans/.
About Famous Dave's. Famous Dave's of America, Inc. (NASDAQ: DAVE) develops, owns, operates and franchises barbeque restaurants. The company has 176 locations in 38 states. Its menu features award-winning barbequed and grilled meats, an ample selection of salads, side items and sandwiches, and unique desserts. For more information, please visit http://www.famousdaves.com or contact Pat Courtemanche at (612) 746-1776.
Statements in this press release that are not strictly historical, including but not limited to statements regarding the timing of our restaurant openings and the timing or success of our expansion plans, are forward-looking statements within the meaning of the Private Securities Litigation Reform Act of 1995. These forward-looking statements involve known and unknown risks, which may cause the company's actual results to differ materially from expected results. Although Famous Dave's of America, Inc. believes the expectations reflected in any forward-looking statements are based on reasonable assumptions, it can give no assurance that its expectation will be attained. Factors that could cause actual results to differ materially from Famous Dave's expectation include financial performance, restaurant industry conditions, execution of restaurant development and construction programs, franchisee performance, changes in local or national economic conditions, availability of financing, governmental approvals and other risks detailed from time to time in the company's SEC reports.
###