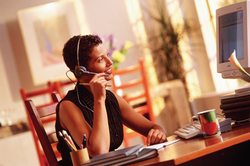 Alexandria, VA (PRWEB) June 15, 2009
VIPdesk Connect, an award-winning pioneer in virtual contact center services, is currently recruiting Jacksonville-area residents to immediately support a national home improvement referral service client via home-based inbound sales and customer support. These independent contractors, called "Brand Ambassadors," will provide phone, e-mail, and online chat support to this client from the comfort of their own home office.
VIPdesk Connect is in need of Brand Ambassadors who enjoy a fast-paced, sales-driven environment, to respond to inquiries and provide inbound sales support for the customers of a national home improvement referral service company. Qualified Brand Ambassadors will have a working knowledge of the home improvement and contracting industry, strong sales skills, and solid computer and Internet skills. Successfully passing a credit and criminal background check is required.
Weekday and Sunday scheduling availability is required for this opportunity, and an average 25-hour/week commitment is required. Average compensation is $10-$12/hour and there are no start-up fees of any kind associated when you affiliate with VIPdesk Connect as a Brand Ambassador. To start the qualification process, visit us online at http://www.vipdesk.com/connectrecruiting.
About VIPdesk and VIPdesk Connect
VIPdesk and VIPdesk Connect specialize in delivering virtual contact center solutions to premium brand leaders in several industries including retail, travel, auto and financial services. We serve more than 40 blue-chip clients with over 10 million customers and are continually recognized through numerous awards, including the Inc. 500, Inc. 5000, NCBEA Business Ethics Award, Stevie Awards for Women in Business and Smart CEO Future 50. To find out more about VIPdesk and VIPdesk Connect, visit http://www.vipdesk.com.
###