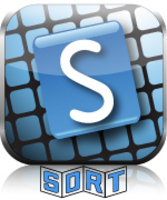 Oak Park, CA (PRWEB) June 15, 2009
Digital Film Tools' newly released Sort is easy enough to keep a child busy, but challenging enough for adults. Comprised of more than 200 games organized in 8 different categories, there's more than enough to keep adults and children busy and entertained--all right at a fingertip. Imagine a world where everything is in order. Each and every item is sorted and has its place. Almanac, Alphabets, Entertainment, Geography & Social Studies, Health & Science, Mathematics, Sports and Trivia; they all need order.
See how fast items can be sorted and matched. Cool animation allows tapping, dragging and flicking elements into place. From this day forward, feel compelled to put items in order with Sort. Whatever interests a person may have, Sort will have a game to match it. Play individually or compete with a friend using multiplayer mode. There's fun for the entire family.
See why potentially millions of people may make Sort the best selling mobile game ever. Take Sort for a spin on the iPhone or iPod Touch to experience new heights in sorting. Experience hours of mindless and educational fun starting today.
Sort Features

More than 200 games organized in 8 different categories
Sorting and matching games
Tap, drag and flick elements into place
Beginner, Intermediate and Advanced Levels
Game hints in Beginner and Intermediate Levels
Multiplayer mode
Shake on the main screen to randomly choose a game
Play in portrait or landscape mode (for tile games)
Integrated Help
Compatibility with iPhone 3.0 OS
Sort for the iPhone and iPod Touch is available for purchase for $1.99 in the iPhone App Store at: Sort
# # #