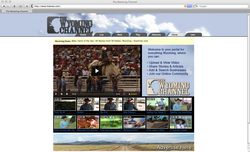 We were drawn to the concept of combining documentary film, New Media technology and the Wyoming experience
Casper, Wyoming (PRWEB) June 14, 2009
Wyoming Channel, Inc. unveiled (http://www.ThatsWy.com) today - a new video-sharing, social media Web site and production company, which provides its clients with HD documentary film services, affordable Web site templates featuring easy-to-use Content Management Systems (CMS), Web site hosting and free business directory listings.
Combining Wyoming's business-friendly environment for entrepreneurs and explosive growth in travel and tourism, The Wyoming Channel is offered as a tool for those seeking an online portal to everything Wyoming, in addition to a way for companies to feature themselves to those looking for more information on the Cowboy State.
"We were drawn to the concept of combining documentary film, New Media technology and the Wyoming experience," said Casey O'Leary, The Wyoming Channel's president and creative director. "In this age of advanced digital communication, it's not difficult to find Web sites that boast amazing video, huge online communities and various web-based services. What makes us different and special is Wyoming itself, as we thematically display through Live, Work and Play categories."
In addition to its video - both self-produced as well as compiled from groups like the Wyoming Division of Travel and Tourism and the National Outdoor Leadership School - The Wyoming Channel provides free community membership, allowing users to upload their own commercials or personal videos, photos, articles, and blogs. The company's executive team includes President and Creative Director Casey O'Leary, Chief Technology Officer Basil Shadid, Chief Operating Officer Michael J. O'Leary, and Chief Financial Officer Guy Palmquist. Board members include Sy Gilliland, Robert "Budd" Betts, and Angie Denny. The company is headquartered in Casper, WY.
# # #