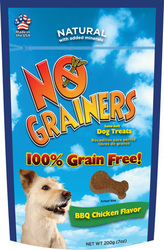 Choosing No Grainers® is a definite no brainer!
Springville, UT (Vocus) June 20, 2009
To kick-off its Twitter and Facebook pages, No Grainers Dog Biscuits & Treats is offering dogs and their owners special rewards for obedient behavior. No Grainers Dog Biscuits & Treats are the newest creation from HBH Pet Products, filling a unique niche among dog products. Some dogs have allergies to the fillers found in other leading treats and biscuits. No Grainers 100% grain free biscuits and treats have the highest protein content in their category. In order to get the same amount of protein found in one bag of No Grainers Biscuits, a dog would need to eat approximately 2 1/2 boxes of the competing biscuit.
By entering the "Treat Your Entire Family Contest," dog owners who upload a picture of their pooches with a bag of No Grainers are eligible to win a first place prize of a $200 gift card to Wal-Mart to treat the two-legged members of their family and a year's supply of dog treats and a (52 bags)! Second and third place winners will receive $50 and $25 gift cards and an HBH Pet Products gift basket.
In addition, the first 200 dog owners who follow HBH Pet Products on Twitter will receive free training clicker/whistle and product combos. Here's how it works:
1.Simply become a follower at http://twitter.com/hbhpet
2.Tweet the following message: Just entered to win No Grainers dog treats and more! Follow @hbhpet and RT (retweet) this message. Details: http://bit.ly/vdWxX
One random follower per day through July 5th will be selected to receive a clicker and an assortment of treats, including No Grainers, from HBH Pet Products. Winners should be on the lookout for a direct message via Twitter requesting their mailing address.
No Grainers chicken-bacon flavored biscuits come in small, medium and large sizes to suit any size dog. No Grainers are also offered as a semi-soft treat in three gourmet flavors: Hickory Smoked Pork, BBQ Chicken and Tender Beef. The treats are available at Wal-Mart for $1.50 per 7 oz. package and the biscuits are $3.50 for a 20 oz. bag. Based on cost and health factors, it is easy to see why, "Choosing No Grainers® is a definite no brainer!"
About HBH Pet Products
HBH Pet Products began in 1988 with just four aquarium foods and has quickly grown over the last decade into one of the industry's leading manufacturers. HBH Pet Products now offers products for just about every type of aquatic animal, including a large selection of species-specific diets.
The company's Betta Bites® fish food has been the best-selling Betta formula on the market for over a decade. In addition, HBH Pet Products offers the only pellet foods specifically designed for the delicate digestive systems of newts, salamanders, and fully aquatic frogs and tadpoles.
In 2004 the firm introduced a new line of dog safe chocolate flavored treats called Chocolicks which led to entry into new markets for dogs and cats and to the current release of grain free, No Grainers® line. For more information, please visit http://www.hbhpet.com.
###