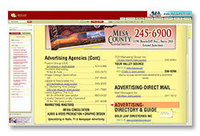 Dirxion has worked diligently to produce a new digital directory user experience
St. Louis, MO (PRWEB) June 23, 2009
Dirxion, a leading provider of digital publishing services, recently launched EdgeClix, an impressive new version of its digital directory solution that takes digital publishing to the next level. Entirely Flash-based, EdgeClix comes with expanded advertising opportunities, incredible speed, boundless customization and a consistent user experience across all platforms.
Today's consumer is looking for local information that is at their fingertips - information that's quick and easy to find. Dirxion's digital Yellow Pages solution is just that; one-stop source for a fast, reliable local search. It provides a convenient alternative to the traditional phone book while online.
"Dirxion has worked diligently to produce a new digital directory user experience," says Steve Mitchener, President & CEO of Dirxion. "This new interface addresses our need for a green product. Even more importantly, it positions the publisher to support the print product while driving new revenue through a digital product. The sky is the limit for features to this new platform. Dirxion has met the challenges of many publishers and we expect many more in the future."
The EdgeClix experience begins with a stylish, animated and highly customizable welcome page that allows users to search across one or multiple directories offered by the publisher. Once inside the yellow pages, the user is drawn in by the vibrant, life-like pages that users can flip just as if they were holding the real thing. The dynamic search functionality coupled with highlighted results allows users to find information almost instantaneously. The text, images and display ads pop and can be easily zoomed for a close-up view. Other cool enhancements that you just can't get from the print directory - audio, video, animation, sticky notes, address mapping, hyperlinks and additional real estate to add advertisers throughout the year.
What makes EdgeClix the number one local search platform for directory publishers?

Incredible speed increases both searching and page loading time no matter what type of connection a user has.
Viewability - We have always had a full screen format and the latest version creates even more space for the pages while still allowing users to navigate to other web pages.
Flexibility - Whether online or off, users across all versions of Internet browsers and operating systems will enjoy the same experience.
New Advertiser Placement - Now publishers can add display ads throughout the year in their most popular categories.
Search Engine Optimization that will allow users on major search engines to find the advertisers and categories listed in your directory
Click in/out, multi-level zooms.
URLs that can prompt installation of desktop icons for e-mail campaigns.
Animated, multi-publication, search and map based entry pages.
Multiple language interfaces available upon request.
Uniform platform between Online/CD/USB/Download.
Going digital means you can transcend distribution barriers as your delivery method shifts from the front step to the inbox and beyond. Your reach becomes global overnight. Not to mention, digital directories enable publishers to lower publishing costs and boost sales while still maintaining and growing circulation numbers.
For directory publishers, the most compelling upgrade to EdgeClix is the expanded advertising reach. EdgeClix allows publishers to add new advertisers at anytime throughout the year, without having to print new directories. Never before has technology provided a better way to both support the printed directory and provide new revenue streams for yellow page publishers.
Casey Adams of Islands Directories commented, "My digital phone book online is awesome. Customers are renewing and buying bigger ads because they will also appear in the online version, which looks so good!"
Interested publishers can visit and view EdgeClix in action using the links below.
Gold Leaf Directories
ETC Phone book
Easier To Read
The Beach Book
About Dirxion
Dirxion transforms static print directories into interactive online presentations that help publishers across the globe lower publishing costs, boost sales and increase reach and circulation. Dirxion's digital publishing solution is captivating the growing online community, while also serving as an excellent transition tool for taking less sophisticated users and bringing them online. Dirxion's list of clients exceeds 200 and includes a wide range of publishers from AT&T to niche publications Buggies Unlimited and tED Magazine. Visit the Dirxion website or the Dirxion blog to learn more about digital directories, catalogs, guides, books, and more.
For information, contact:
Jennifer Geeting
Marketing Manager
Dirxion, LLC
1859 Bowles Avenue
Suite 100
Fenton, MO 63026
P (636) 717-2371
F (636) 717-2390
http://www.dirxion.com
###