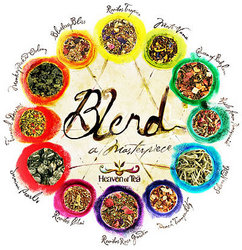 Atlanta, GA (PRWEB) June 29, 2009
Today, innovative tea retailer Teavana® debuts an exciting new tea blending contest, the "Tea Master's Challenge", online (Teavana.com) and in their 100+ retail stores. This is the public's opportunity to "go face to face" with experts in the tea industry by creating and submitting a favorite blend using a combination Teavana's current selection of 108 fresh loose leaf teas. Using a blend of 2 to 4 teas per submission and a choice of sweeteners & special instructions, the contest is a call to all tea lovers to create a new masterpiece. (With teas choices like rare chocolaty Black Dragon Pearl, Samurai Chai Maté, Bangkok Lemongrass Rooibos, Monkey Picked Oolong, Imperial Acai Blueberry White Tea, and Fruta Bomba Green Tea, the combinations are endlessly delicious.)
In addition to submitting a favorite blend, anyone can visit the Teavana website (http://www.teavana.com) everyday from June 29 to August 16, 2009 to vote for their favorite entrant's combination. In total, six entries will be selected as winners. The grand prize winner will receive a $500 gift card and the winning blend will be sold on their website in the Fall/Winter of 2009. Additionally, the blend with the most online votes will win a $200 gift card along with one pound of their blend. For complete contest rules go to http://www.teavana.com/teamasterschallenge/rules.
Teavana, known for selling the finest loose leaf tea from around the world will debut a new crop of flavorful and healthy teas this fall. The selection, which includes a wide variety of single estate and flavored white, green, oolong, black and herbal teas, has been much anticipated by customers online, followers of Teavana's Blog (http://www.heavenoftea.com), and the loyal customers who pass through their stores every day.
First opened in 1997, with the name meaning "Heaven of Tea", the mall-based stores are part retail shop (unique tea pots and tea making accessories) and part tea emporium with a unique selection of loose-leaf tea from all over the world.
###