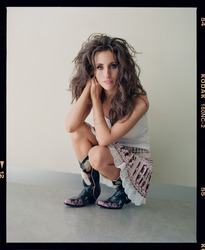 I'm so honored to be a part of this outstanding program
Alexandria, VA (PRWEB) July 6, 2009
Music recording artist Laura Bryna is already "giving back" through her volunteer work with Make-A-Wish Foundation and the Air National Guard. Add to that list her new role as celebrity spokesperson for the National Guard Youth Foundation (NGYF), whose mission is to raise national awareness for the National Guard Youth ChalleNGe Program and expand the program throughout the country.
The Youth Challenge Program was founded by the National Guard with a congressional mandate in 1993. Open to male and female high school dropouts between the ages of 16 and 18, the voluntary program is a year and a half commitment focusing on education and practical life skills geared to helping these former students chart a better life path for themselves.
The program takes a holistic approach focusing on eight core components, including: academic excellence, health and hygiene, job skills, leadership/followership, life coping skills, physical fitness, responsible citizenship and service to the community. As of January 2009, close to 85,000 students have graduated from the program and 80 percent earned their GED (general equivalency degree), nearly double the pass rate of other adult education programs.
With one CD out and another on the way, Bryna is an artist quickly establishing herself. In the past year, she has opened for the likes of Taylor Swift, Sugarland, Carrie Underwood and Clint Black. Clear Channel Radio calls Bryna "an artist to watch". Her current CD, 'Trying to be Me' (2008), is about to be released in Europe.
"I'm so honored to be a part of this outstanding program," said Bryna, who performed recently at the Fourth Annual Challenge Champions Gala in the nation's capital. "Almost one third of all public high school students fail to graduate each year with their senior class and that figure is much higher for African-Americans, Hispanics and Native Americans. The Youth Challenge Program is incredible and really produces positive results. We need this for the sake of our kids and our country."
Bryna joins several other celebrity spokespeople working on behalf of the NGYF. They include country recording artist Trisha Yearwood, Kelly Perdew (winner of NBC's The Apprentice), country recording artist and American Idol finalist Josh Gracin, actor Lorenzo Lamas, Indy 500 winner Dan Wheldon and actor Karri Turner (TV series JAG from 1997-2005).
###