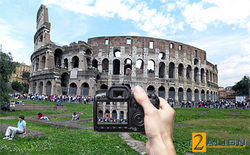 Offering our photographers innovative options is important to LabPrints
Clifton Park, New York (PRWEB) July 2, 2009
Professional Photographers looking to capture and create composited images of live events like Weddings can now do so with LabPrints LP Image Aligner, the new panorama stitching software licensed from DualAlign LLC. With LP Image Aligner, photographers can quickly merge multiple images taken at live events from any camera into a seamless panorama or montage - all without ever leaving LabPrints LP Digital Studio.
Unlike other panorama software products, LP Image Aligner is based on advanced technology that is incredibly reliable -- so reliable, in fact, that it has been used by NASA to stitch images of the space shuttle into one montage for analysis. In addition, independent government testing has found the incredible technology powering LP Image Aligner to be the best technology in the world. This new form of imaging intelligence is certain to change the way photographers take pictures.
"We felt the technology behind LP Image Aligner was so reliable that we could deliver an advanced easy-to-use product for professional photographers. This is one of the first products in our industry that is reliable enough for use at live events," says Dr. Charles Stewart, CSO of DualAlign LLC.
DualAlign LLC's breakthrough technology allows photographers to reliably and easily create montages and panoramas at events like weddings and trade shows. Such environments are generally not conducive to montage or panorama photography because of all of the movement within the shots. However, DualAlign's revolutionary i2k technology, which features super smart blending and seam selection, makes live event panoramic photography possible without the need for any special equipment or tripod.
"Offering our photographers innovative options is important to LabPrints," says Bill Gamble, founder and CTO of LabPrints. "By offering this simple, yet robust technology to align and montage multiple images, we believe our 8000+ photographers will be able to offer more unique products and services to their customers." Gamble also states, "The fact that we had the opportunity to collaborate with another local tech company is very exciting. It benefits the entire area when local businesses can work together in the advancement of technological solutions as well as commerce." Both firms reside in the area commonly referred to as New York's "Tech Valley."
The lead computer vision scientists behind i2k Quickage, Dr. Charles Stewart and Dr. Gary Yang, are recognized leaders in their fields, further evidence of the world class service users can expect from the program's use and resultant panoramic photographs.
i2k Quickage is so simple to use that it can be employed anywhere in any situation at any time.
"I just read an article in Newsweek, 'Apple's New Weapon,' which stated that the US military is equipping soldiers with iPod touch players and iPhones. With i2k Quickage software, these soldiers could be capturing high resolution imagery of their surroundings, which could lead to valuable intelligence," says Remy Arteaga, CEO of DualAlign LLC.
For more information about i2k Quickage, the new panoramic photo montage software from DualAlign LLC, visit http://www.i2align.com.
To learn more or to schedule an interview with Remy Arteaga, please call 877-595-7181 or e-mail info (at) dualalign (dot) com.
About DualAlign LLC
DualAlign LLC is a technology-based software start up that transforms image registration and recognition technology into software solutions that enhance digital imaging systems. Learn more about DualAlign LLC at http://www.dualalign.com.
About LabPrints LLC
LabPrints software offers a complete solution to the professional photographer's workflow--its comprehensive suite of software is a stand-out in the industry, and helps in every step of the post-production process, including organizing images, placing print orders, designing albums, projecting images, and online proofing and album review services. LabPrints is partners with over 100 of the top photo labs and album companies in the country, allowing photographers to choose the lab that best fits their needs. http://www.labprints.com.
###