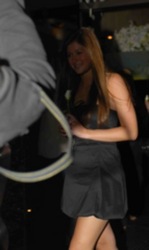 New York, NY (PRWEB) July 6, 2009
After several weeks of filming all over New York City, the talented cast of "Trophy Kids" is heading to NYC hotspot Kiss 'n' Fly at 8 pm on July 2, 2009 to celebrate their hard work with an official film wrap party! The venue is fitting, as several scenes were actually filmed at the amazing Kiss 'n' Fly location. Guests will include cast members Ryan Eggold (90210), David Gallagher (7th Heaven), Tahyna Tozzi (X-Men Origins: Wolverine), Nathan Lee Graham (Zoolander), David Thornton (The Notebook) and Tibor Feldman (The Devil Wears Prada), along with Sports Illustrated Swimsuit Model Jessica Hart, who has a small cameo in the film.
"Trophy Kids" is the first feature film from YaSu Media, including Josh Sugarman (writer/director), Brandon Yankowitz (writer/producer), and Marc Elliot Littman (co-producer). A story about the members of over-indulged Generation Y, "Trophy Kids" is loosely based on the writers' personal experiences. The film depicts a self-righteous twenty something named Max (Ryan Eggold) in his search for wealth and fame. He decides the best way to achieve this is by documenting his own fortunate life. Max enlists the help of Reid (David Gallagher) to ghost write the script, and two embark on a bumpy journey of self-discovery that includes falling for the same girl, Quinn (Tahnya Tozzi).
Filming of "Trophy Kids" took place all over New York, from Long Island to Brooklyn to the heart of Manhattan. The cast and crew tirelessly worked long hours and late nights, pouring their hearts into this special film. The admirable effort of everyone involved paid off, as the smooth production promises to result in an outstanding film.
The wrap party is the culmination of the creators' long-awaited dream and the cast and crew members unrelenting hard work. Other Gen Y stars in attendance included: Alex Bodnar (Guitarist Scott Stapp Project), Lucky and JUS (Making the Band/JUS Evolution), Corey Golden (Pop Star), Philly Chase (Steppin) , HOM (Skateboarder), Lacie Mangini (Model), Orlando Strozier (Actor), Rock Band Always Searching, Kumikazi (UK Rocker), and Ashley Hollister (American Idol). It is a well-deserved celebration that is not to be missed!
(Grubman PR) (Stars Confidential) http://www.starsconfidential.com
###