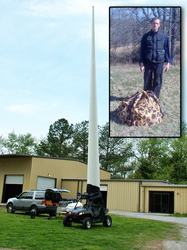 These towers are a valuable tool in the emergency management services arsenal
Cookeville, TN (PRWEB) July 9, 2009
Airship manufacturer LTA Projects announced the development of a twelve-meter air inflated antenna tower that weighs less than 40 pounds and is deployable by one person in less than ten minutes. The AIR Tower system is designed for use with most portable radio and cell repeater systems or antennas and can carry lightweight camera and sensor payloads up to 2 pounds. Other AIR Tower models include a 60 footer and a more robust high-lift configuration for 10 pound payloads.
The AIR Tower can be ground staked, or mounted in a truck bed, on a roof rack, boat deck, or rooftop, providing extended communications or a sensor platform. This solution is ideal for quick response to natural disasters, search and rescue, and other situations requiring temporary or mobile communications extension or sensor deployment.
The internal blower system mounted inside the 30" diameter base is configured for AC power (about 800 watts for 3 minutes), but an optional battery powered blower is also available. Other options include controls for remote deployment, and an internal light source to illuminate the tower itself.
"These towers are a valuable tool in the emergency management services arsenal," said Steve Garner, owner of LTA Projects. "And they are designed to be affordable to municipal as well as state and federal agencies."
The AIR Tower system is currently available and is part of a new line of air inflated towers LTA Projects is bringing to market.
About LTA Projects:
LTA Projects builds airships, aerostats, and other air structures for government and business customers worldwide. In addition, they are the makers of the iLUGGER bags for Apple computers. They are well-known for their innovative products and high quality work.
###