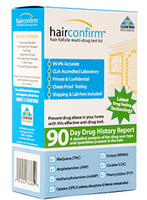 HairConfirm is designed to help parents take a proactive role in preventing their children's illegal drug use
San Diego, CA (Vocus) July 9, 2009 –
Confirm Biosciences Inc today announced, that its HairConfirm hair drug test kit is now available at over 1000 independent pharmacies across the US through Associated Pharmacies inc, a buying cooperative that provides independent pharmacy owners with OTC products. The hairconfirm product can detect drug use as well as usage frequency for up to 90 days, equipping parents with a valuable new tool for combating substance abuse. The kit is now available to over 1000 independent pharmacies nationwide through Associated Pharmacies Inc.
Developed by Biotech Company Confirm BioSciences, the test overcomes the limitations of two- or three-day saliva or urine screenings that enable users to escape detection by avoiding drug use for a short period. It is also the first home hair test to report the amount of each chemical detected as well as whether the results indicate low, medium or high usage.
"I can tell you first hand how easy it is for families to dismiss the visible signs of drug abuse in a loved one," said Leigh Lehmann, a HairConfirm customer who purchased the kit for a family member. "But numbers don't lie, and the detailed information provided by this product will help bring people together to deal with it. I wish I had done this years ago!"
HairConfirm is the first of its kind, and tests for 7 different types of illegal drugs including Marijuana, Cocaine, Ecstasy and Heroin. The product measures the molecules embedded inside the hair shaft, eliminating external contamination as a source of a positive result. Since hair growth is fed by the bloodstream, the ingestion of drugs of abuse is revealed by analyzing a lock of hair. HairConfirm test results cannot be altered with shampoos, bleaches or other external chemicals.
The advantages of HairConfirm over urine-based, at-home drug testing kits include:

Longer window of detection – months instead of 48-72 hours.
Cost-effective and time-saving – one hair test vs. 18 urine samples for three-month profile.
5-10 times more sensitive test than urinalysis.
Easier to collect, store and transport.
More dignified method to use.
A full drug history report. Data can differentiate between recreational user and addictive user.
Two-thirds of parents would ask their teenage son or daughter to take a home drug test as a means of keeping them away from drugs, according to a 2006 survey of 2,064 parents around the country by Washington, D.C.,-based opinion research and polling organization RT Strategies
"HairConfirm is designed to help parents take a proactive role in preventing their children's illegal drug use," said Zeynep Ilgaz, CEO of Confirm BioSciences. "Talking with your child about drugs and taking preventive measures like hair drug testing can be a significant factor in preventing substance abuse."
Teens Today research from SADD (Students Against Destructive Decisions) and Liberty Mutual Group has suggested that parents are the number one deterrent to a teen's decision to use drugs. Studies by that group have shown that the average age of first drug use is 13; more than one-third of teens have used drugs, including almost one in six middle school students and 30% of their high school counterparts reporting marijuana use; and 13% of high school students report using drugs such as cocaine, crack or ecstasy.
Hair follicle drug testing is a highly trusted method of drug detection that is regularly used by employers and law enforcement agencies because of its accuracy, long window of detection, and resistance to tampering. In two independent studies, hair drug testing uncovered five to ten times more drug users than urinalysis. Urinalysis also carries the risk of substitution of a sample, dilution and addition of a foreign substance designed to skew the results.
HairConfirm is now available to over 1000 independent pharmacies nationwide though Associated Paharmacies, Inc nationwide. The kit sells for $64.99 including a collection kit, prepaid return envelope, lab fee, report and free counseling hotline.
To find a pharmacy near you call Associated Pharmacies Inc at 1 800 243 8521 or visit http://www.apirx.com
About Associated Pharmacies, Inc. (API):
Founded in 1987, Associated Pharmacies, Incorporated(API), is a member-owned buying cooperative that provides independent pharmacy owners an opportunity to buy like a chain. API members take advantage of savings on brand, generic, and OTC products at discounted, volume prices. As a unified voice in an ever-changing environment, API designs and implements programs to give its pharmacies the tools needed to run a successful business.
About Confirm BioSciences
Confirm BioSciences is a provider of diagnostic health and test kits for drug testing, laboratory urinalysis and other services. The company is privately held and based in San Diego. For more information, visit http://www.confirmbiosciences.com.
© 2009 by Confirm BioSciences, Inc. All rights reserved.
###