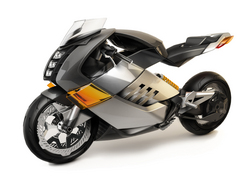 Sarasota, FL (PRWEB) July 12, 2009
Go Green! Go Fast? Not a problem for internationally renowned ROBRADY design of Sarasota, Florida. ROBRADY has been awarded two prestigious 2009 Green GOOD DESIGN™ Awards for the Vectrix Electric Super Bike and Vectrix VX-1 Electric Maxi Scooter. These award-winning vehicles feature impressive speed, zero emissions, and cutting edge design which have garnered accolades from both the press and organizations such as Red Dot and IDEA. ROBRADY's designs are currently being featured at the European exhibition at Contemporary Space Athens which opened July 1, 2009 in Athens, Greece.
The Green GOOD DESIGN™ award is a very specialized edition of the GOOD DESIGN™ program, which was founded in Chicago in 1950. The idea of the award is to emphasize the importance of sustainable design and to develop a public awareness program to the international general public about which companies are doing the best job in sustainable design for our world environments. The Green GOOD DESIGN™ 2009 recipients represent the world's most important manufacturers and design firms and leading FORTUNE 500 corporations that are forwarding a new emphasis on a more sustainable design and environment worldwide.
ROBRADY design is a multi-disciplined product design and development studio that offers its multinational client base -- including General Electric, Mercedes-Benz, Dell Computers, Parker Hannifin, AT&T, Merial and Volvo Penta--progressive industrial design, mechanical design and engineering, graphics /packaging / GUI / web and eCommerce design, market research, brand and retail development, complete rapid prototyping and production program management. ROBRADY design stresses comprehensive speed-to-market product solutions by collaborating to identify the greatest areas of opportunity and producing innovative designs to deliver profitable product solutions.
###