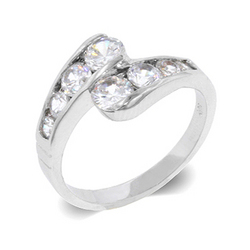 (PRWEB) July 13, 2009
Lushae Jewelry, an innovative Australian jewelry label, is pleased to announce the addition of 10 antique and vintage styled cubic zirconium promise rings to its 2008 range. Expanding upon vintage and antique inspired designs the promise rings again are hand constructed from authentic sterling silver complimented with a Rhodium finish which both improves resistance to tarnish and results in an antique silver coloring.
Promise rings continue to dominate jewelry fashion trends as younger couples seek a means of representing commitment without entering marriage. While engagement rings are typically expensive diamond and white gold pieces promise rings offer a more versatile and wider range of metal and gemstone configurations.
With celebrity attention from the Jonas brothers, Jordin Sparks and Russell Brand this modern trend continues to find an increasingly wide range of applications. Those about to embark upon zero carbohydrate diets purchase simple sterling silver promise rings to serve as a permanent reminder of their dietary changes. Recovering addicts, first year students, born again Christians and many others are also participating in the Jewelry trend.
In the coming weeks the Lushae Jewelry promise ring range will continue to expand featuring white gold, stainless steel and other precious metal pieces. Lushae Jewelry offers a range of handcrafted jewelry pieces in a wide variety of styles. All jewelry is backed by a free size and replacement warranty.
###