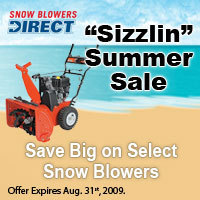 These buyers will be rewarded for getting ahead of the curve and purchasing their snow blower this summer
Bolingbrook, IL (PRWEB) July 28, 2009
In preparation for snow season, SnowBlowersDirect.com - a leading online snowblower superstore - is slashing prices on select electric, select single-stage and two-stage snow blower models.
While most people are still focused on cutting their grass and maintaining their lawns, there are deals to be had for bargain shoppers looking for "Christmas in July" sales.
"These buyers will be rewarded for getting ahead of the curve and purchasing their snow blower this summer," said Jon Hoch, founder and CEO of SnowBlowersDirect.com. "Right now we have a great selection of snowblowers considerably marked down."
It's never too early to start shopping for a snow blower, especially given the recent cold, snowy winters.
If you weren't able to find a snow blower last year due to the shortages, you can get one now at closeout prices.
Visit our snowblower sale page to see the selected snow blowers on sale now at SnowBlowersDirect.com. Hurry, the sale ends August 31, 2009.
Power Equipment Direct operates nine niche online superstores. The Bolingbrook, IL-based company operates AirCompressorsDirect.com, ElectricGeneratorsDirect.com, PressureWashersDirect.com, SnowBlowersDirect.com, MowersDirect.com, WaterPumpsDirect.com, SumpPumpsDirect.com, ChainSawsDirect.com and LogSplittersDirect.com.
###