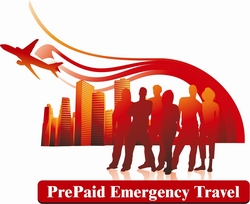 How to Prepare for Emergency Situations
Las Vegas, NV (PRWEB) July 30, 2009
Once upon a time Denise found herself in the midst of a crisis. Her brother had just called last minute from Alabama -- there had been a terrible motorcycle accident involving his son. She was very close to her brother and he needed her support. Denise knew it was important -- no, essential -- for her to be at her brother's side for the funeral. But how could she make it happen with no savings available to pay for a last minute airline flight?
In this real-life situation, Denise relocated to a new city far away from her brother and spent most of her savings getting there. She had little money left over from her paychecks to build savings. She is like most Americans. Recent research shows that most people in the U.S. save less than 1% of their earnings. A lack of savings has left many Americans without the proper foundation to handle life's priorities.
Enter the shrewd professionals at PrePaid Emergency Travel. Fred Willis and Vanessa Lewis have been operating this remarkable service out of Las Vegas, NV for over 8 years. They have helped hundreds of individuals with emergency travel arrangements, to be with loved ones in times of illness, injury or loss of life. This service provides a sure-fire way for people to have peace of mind during times of stress.
Here are some of the benefits of membership:

Peace of mind during times of stress and crisis
Round trip travel with no additional costs above membership fees
Travel as soon as 90 days after starting a membership.
Dedicated professionals care for your travel arrangements, even during the waiting period
Reduce your worries, frustrations and unexpected costs.
Eliminate the headaches associated with making travel arrangements.
As a community service, a free report: "How to Prepare for Emergency Situations", is available upon request.
Warning: This is a proactive service, so call us before you need us and to get all the details. For more information, visit http://www.prepaidemergencytravel.com.
Vanessa Lewis
PrePaid Emergency Travel
Toll Free: (866) 875-8792
We Will Not Fail To Get You There!
###