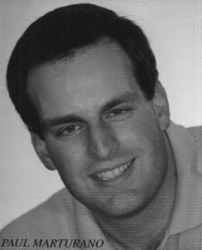 Philadelphia, PA (PRWEB) July 30, 2009
Billy Joel and Elton John will be performing at Citizens Bank Park on Thursday July 30 and Saturday Aug 1. The 1 hour preshow and 1 hour postshow to the concert on Saturday at McFadden's Bar in Citizens Bank Park will be performed by local American Idol Alum, Paul Marturano.
Marturano, a singer-songwriter pianoman who lives in Bucks County, PA, was asked to perform the show because of his similar piano musical style. He will perform songs from the two headliners and possibly an original song or two. Marturano has released two CDs both available on Itunes, CDbaby.com and his website http://www.paulpiano.net
Marturano grabbed international attention back in January of 2008 when he appeared on American Idol and jokingly sang a comedic song about stalking Paula Abdul in an effort to drive people to his "real music" on the web. Hundreds of radio interviews, articles, television appearances and iTunes sales followed. "It was one hell of a publicity stunt. I find it hilarious that I actually have fans in Lithuania now," said Marturano. His comedy song "Stalker": raised eyebrows everywhere but for his upcoming gig at Citizens Bank Park, he is staying away from the comedy and showing off his piano playing.
Over the past year, Marturano has been in the news for his charity concerts for the Non-Profit 501c3 approved Animal Rescue, Loli's Place, Inc. whose mission is to halt the euthanasia of adoptable dogs and cats through spay and neuter program as well as foster care & adoption programs Loli's Place, Inc. can be found on the web at http://www.Lolisplace.com .
Marturano says he remembers the summer when he was 19 working two jobs one from 6:30am to 12:30pm and another from 4pm-11pm to put himself through college. According to Marturano, his only enjoyment that summer was sitting down at the piano everyday from 1pm to 2:30pm and playing Billy Joel and Elton John songs. It has prepared him for this moment.
"I grew up playing Billy Joel and Elton John songs. When I was asked by ESS Entertainment to do this gig, it brought me to tears. I am grateful for the opportunity to play the preshow for my idols. The only way the night could be better is if I had the chance to play a song or two with them on the mainstage…… for me that would be a dream come true and more than top the whole American Idol experience."
McFaddens Bar is located in Citizens Bank Park 1 CITIZENS BANK WAY, PHILADELPHIA 215-952-0300.
Contact: Off the Edge Productions, LLC
215-478-5297
###