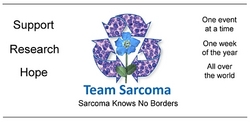 We all need to go beyond hope. We need to expect that the future will bring great things, and that we are going to accomplish those things together.
Washington, DC (PRWEB) July 31, 2009
Ambassadors from Lithuania, Mexico, and New Zealand gathered with physicians and government representatives on July 24 in Washington, DC, to honor people dealing with sarcoma, a rare and dangerous cancer. The reception was a part of the global Team Sarcoma Initiative (TSI), a growing movement that involved more than 14,000 people in 14 countries last week.
Ambassador Roy Ferguson of New Zealand expressed appreciation for the grass-roots effort: "When I heard that this sarcoma awareness week started in 2003 with 7 people in Louisiana, and this year will have 12,000 people in [14] countries, that's an amazing example of success. And I think it reflects the fact that this terrible disease knows no boundaries. And it really reflects a common humanity: it doesn't matter whether you live in the United States, New Zealand, Mexico or wherever you live, any of us could be subject to this disease."
Sarcoma is a cancer of the connective tissues, such as nerves, muscles and bones. Sarcomas account for 15-20% of childhood cancer diagnoses and about 1% of adult cancer diagnoses. They are often misdiagnosed and resistant to current treatments. Though sarcomas are rare, they affect hundreds of thousands of people worldwide.
Patients, survivors and families at the event traveled from 10 countries and arrived in DC after cycling and touring 184 miles from Cumberland, MD. At the start of the reception, they mingled with the distinguished guests and shared their experiences with sarcoma. People of all ages spoke in many languages about the joys and challenges of life while dealing with the rare disease.
Mexican Ambassador Arturo Sarukhan was moved by the accomplishments of TSI participants, who have raised more than $1.5 million for sarcoma research and support since 2003. He said, "The work that the Team Sarcoma Initiative has carried out over the last six years is an impressive display of the impact that committed individuals from within civil society can have to further a specific cause."
The ambassador went on to say that the movement as an example for both individuals and governments: "I believe that, as diplomats, we have much to learn from such efforts, as individuals in civil society organizations from around the world work together across borders to face a disease that knows no borders."
The mantra of TSI, 'Sarcoma Knows No Borders' was emblazoned on the wristbands worn by guests at the reception, as well as participants around the world. During the week, barriers dissolved as patients, communities, advocacy groups, and medical professionals worked to improve the lives of everyone dealing with sarcoma. More than 80 events were hosted by 28 cancer centers, 25 advocacy groups and over 30 other groups during the International Sarcoma Awareness Week.
Lithuanian Ambassador Audrius Bruzga was pleased that Team Sarcoma events were occurring in his country: "People are motivated, and they are motivating other people to get involved, to be active, and to share this awareness."
Dr. Crystal Mackall, Chief of the Pediatric Oncology Branch of the National Cancer Institute, spoke about the cooperative spirit of TSI: "The only real way that any of us can make a difference is by working together. This is true for any problem, but it can't be any truer than for a rare disease like sarcoma. We are absolutely dependent on philanthropy, government, industry, all kinds of other people to fund our ideas. And even if we get all the funding in the world…if we don't have the trust of our patients, we are not able to test our new treatments."
Dr. Martin Makary, Director of the Johns Hopkins Center for Surgical Outcomes Research, talked about the trust that exists between sarcoma patients and their physicians: "That trust is most intense when we're dealing with cancer. And the trust is thus the greatest in strength when we're dealing with unique cancers."
The hope of the Team Sarcoma Initiative is that increased awareness and research funding will improve the diagnosis, treatment, and support offered to everyone who is touched by sarcoma, the 'forgotten cancer.' But Dr. Mackall explained that this movement is about more than hope: "We all need to go beyond hope. We need to expect that the future will bring great things, and that we are going to accomplish those things together."
To view videos of the reception speakers, visit: http://www.youtube.com/teamsarcoma
To learn more about Team Sarcoma, visit: http://www.team-sarcoma.net/
The Team Sarcoma Initiative is a coordinated set of events to increase awareness of sarcoma, and to raise funds to support sarcoma research, clinical trials, and patient and family services. The 2009 Initiative was accomplished by hundreds of people from medical centers, advocacy groups, and patient and family groups. The global Team Sarcoma Initiative is coordinated by the Liddy Shriver Sarcoma Initiative, an all-volunteer organization dedicated to improving the quality of life for people dealing with sarcoma.
# # #