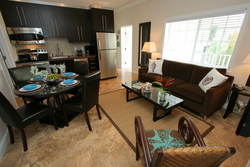 The Beach Club will bring a new level of luxury to the resort-style accommodations available on Siesta Key
Siesta Key, FL (PRWEB) August 17, 2009
ResortQuest Southwest Florida, one of the nation's leading vacation rental property management companies for vacation condominiums and home rentals, has been named property and resort manager of The Beach Club, located on Siesta Key, Florida.
The Beach Club at Siesta Key is decorated using clean lines and bright colors, all while remaining inviting and engaging, including all that is signature to ResortQuest Southwest Florida. This newly constructed resort features modern décor, mixed with the youthful attitude of this world-famous destination, making this chic resort one of the most desired accommodations on Siesta Key. Each unit features a full-size kitchen with stainless steel appliances, large flat-screen TV's, modern décor and Avonite countertops. The property boasts beach access less than a block away, heated swimming pool and hot tub.
"The Beach Club will bring a new level of luxury to the resort-style accommodations available on Siesta Key," said Trevor Hind, General Manager of ResortQuest Southwest Florida. "Over the past year we have seen an increase in demand for this beach town and we are delighted to unveil a destination resort that we are confident will please the most discerning traveler. The Beach Club is a great addition to our existing inventory and is sure to set a new standard of accommodations and service on Siesta Key."
To inquire or make reservations for The Beach Club, 6732 Sarasea Circle, Siesta Key, FL, call (800) 237-9505 or visit http://www.ResortQuestSWFL.com/beachclub.
ResortQuest Siesta Key vacation rentals offers numerous homes, condominiums and resort-style properties on or near Siesta Key beaches. Other ResortQuest vacation rentals include: Bradenton, Sarasota, Longboat Key, Lido Key, Anna Maria Island and Venice. Each vacation rental is fully furnished and vacation ready. For more information log onto http://www.ResortQuestSWFL.com or call 800-237-9505.
About ResortQuest Southwest Florida:
ResortQuest Southwest Florida, owned and operated by Coastal Accommodations International, LLC, is one of the nation's leading vacation rental companies on Florida's west coast. ResortQuest is the largest marketer and management company of vacation condominiums, homes and resort-style properties in Southwest Florida, based on a portfolio of 305 units. The Southwest Florida inventory includes premier beach destinations like: Anna Maria Island, Bradenton, Longboat Key, Lido Key, Sarasota, Siesta Key and Venice.
###