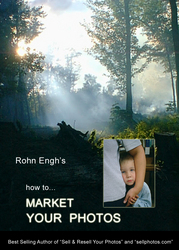 Making the match to appropriate photobuyers is the key in today's internet culture. Search engines are a powerful ally for today's stock photographer. Photobuyers have learned to circumvent the large stock agencies and use search engines to go directly to a photographer's website who has the exact picture they need
Osceola, WI (PRWEB) August 4, 2009
Photographers, pro and amateur alike, will remember the name, Rohn Engh, from his best-selling 1981 book, Sell & ReSell Your Photos (Writers Digest Books). He is a pioneer in what has come to be known as "stock photography."
The word-of-mouth excitement over his book catapulted it through five successful updated editions until the Internet came along and made his "from your home mailbox" system obsolete.
But it didn't make Rohn Engh outmoded. He continued full bore by using the Internet to produce an informational marketletter, the PhotoDAILY that tells subscribers exactly where they can sell their photos, whether as individuals from home or as a stock agency representing other photographers.
Now Engh has gone a step farther and produced a 21-unit eCourse on CD ("How To Market Your Photos") that pulls together new strategies that successful photographers are using to take advantage of the Internet as a tool to make more sales. The eCourse shows photographers how to avoid modern pitfalls that lurk to trap the unwary; such as invitations to photographers to place their photos with an on-line portal (photo gallery) that purports it will sell the photographer's pictures for them for a percentage. It turns out, according to Engh, the photographer's cut is not much at all, the actual asking price per photo is abominably low, and the traffic to the site is light. The photographer ends up with a monthly charge for the service that is higher than any revenue coming in.
"My eCourse shows independent individual photographers how they can capitalize on their photographic strength areas -whether it be the unique place they live, or the unique photo-passion they have -like certain flower species, model railroading, snow boarding, childhood education - there are more than 3,500 subject areas that magazine and book publishers have a continuing demand for, - to use in their upcoming books, their update materials, and publishing projects," says Engh.
"Making the match to appropriate photobuyers is the key in today's internet culture. Search engines are a powerful ally for today's stock photographer. Photobuyers have learned to circumvent the large stock agencies and use search engines to go directly to a photographer's website who has the exact picture they need," Engh says. "The secret to getting this photobuyer traffic is in knowing how to position yourself."
Engh says his eCourse shows photographers exactly how to do this. His promotional materials are replete with accolades such as, "Thank you for providing an inspirational eCourse. The section about vertical markets really helped me in setting goals to shoot for a niche market instead of remaining a generalist." -Bob Pardue, Carolina Travel Photos, Lancaster, South Carolina, USA.
Engh has gleaned his photo-marketing Internet knowledge from trial and error, feedback from his popular newsletter, PhotoStockNOTES, and from working photographers themselves. The eCourse includes interviews with photographers as well as photobuyers.
Engh lives on a 100-acre farm in the boondocks of northwest Wisconsin with his wife, Jeri. They have been there since 1966.
Engh's e-Course, "How To Market your Photos," is priced at $89.95.
For information on the eCourse: https://www.photosource.com/cart/marketyourphotos.php
http://www.photosource.com
1 800 624 0266
info (at) photosource (dot) com
Want to interview Rohn Engh? 1 715 248 3800 ex 26
###