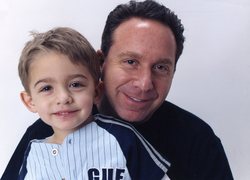 We admire Barry Saywitz for his continuous dedication in helping fund autism research. At Tommy Bahama, we strongly believe in giving back to our community. This is why it gives us great pleasure to be able to support Mr. Saywitz and be a part of An Evening of Autism charity event
Newport Beach, Calif. (Vocus) August 5, 2009
Realizing the importance of autism research and programs, celebrities, athletes, political dignitaries and community/business leaders from all over the Southland are coming together to raise funds for this worthy cause.
Orange County real estate entrepreneur Barry Saywitz (whose five-year old son was diagnosed with autism at the age of two) has become extremely active in coordinating and participating with numerous autism-related organizations on a local and national level. As the host of last year's first annual "An Evening for Autism" event, he raised more than $200,000. The goal of this year's event is set even higher - hoping to raise more money than last year.
Special guests include Fox 11 News Anchor Christine Devine (KTTV-FOX) and Bubba Jackson, program DJ at KJAZZ (88.1 FM) who will be co-hosting the event, Jane Monreal - former features/traffic reporter with KABC-TV Eyewitness News, entertainment journalist and designer Tina Marie Tyler, David McKenna (scriptwriter for American History X, Blow and S.W.A.T), Beth Krom for Congress (Former Irvine Mayor), State Assemblyman Van Tran serving the 68th District of Orange County (Anaheim, Costa Mesa, Fountain Valley, Garden Grove, Newport Beach, Stanton, Westminster) State Assemblyman Chuck DeVore serving the 70th District of the State of California (Irvine), and State Senator Lou Correa of Santa Ana serving the 34th Senate District (Anaheim, Buena Park, Fullerton, Garden Grove, Santa Ana, Stanton and Westminster). Athletes include Jay Johnstone (former LA Dodgers) and Mark Spitz (9-time Olympic Gold Medalist Swimmer).
Hosted by Saywitz and gold sponsor Tommy Bahama, more than 500 people from across the Southland are expected to attend the 2nd annual "An Evening for Autism" event on September 12, 2009. This event will benefit the following charities: Easter Seals Southern California, Talk About Curing Autism (TACA) and Autism Society of America (ASA). In addition, proceeds from the event will benefit Newport Mesa School District's Autism Programs.
"I recognize that we all are struggling in this down economy, which is why this year's event is even more important than ever before," said Saywitz. "All of the organizations, including the school district, have had significant budget cuts, which have hindered these charities from providing services to people of all ages who struggle with autism. I am hopeful that we will be able to raise even more money this year and am thankful to receive such tremendous support from the local community and beyond."
The tropical-themed function will be held outdoors at Saywitz's home in the Belcourt development of Newport Beach (9 Chadbourne Court). This first-class, fully-catered event will include four live bands (two Steel Drum bands, a Beatles Tribute and a Rockin House Party Band), a golf putting green, pool tables, pinball machines, video games, valet parking, red-carpet entrance, and eight beverage bars including a martini bar, rum bar, mojito bar, wine bar, beer bar and coffee bar as well as a silent and live auction featuring numerous gifts, trips and unique memorabilia such as autographed musical instruments, sports memorabilia, yacht trips and golf experiences.
"We admire Barry Saywitz for his continuous dedication in helping fund autism research. At Tommy Bahama, we strongly believe in giving back to our community. This is why it gives us great pleasure to be able to support Mr. Saywitz and be a part of An Evening of Autism charity event," said Scott Perry, general manager of Tommy Bahama's Island Grille.
This charity event has received strong support from the local community and national corporations. Due to this local support, the event will offer "A Taste of Orange County," where guests will have a chance to sample appetizers from the following food sponsors: Tommy Bahama's Island Grille, Wildfish Seafood Grille, Newport Rib Company and The Beach Pit BBQ, The Cheesecake Factory, Maggiano's Little Italy, Taco's & Co., Harborside Restaurant and Newport Landing Restaurant and Oyster Bar. In addition, the drink sponsors include Tommy Bahama Rum, Stone Brewery, La Paz Products, Hope Wine and Hansen's Sodas. Coffee, hot chocolate and tea will be provided by Starbucks. Desert was provided by The Cheesecake Factory, Green Cupcakes, Valentino Chocolatier and Cacao Luxe Chocolatier.
Corporate sponsors include Tommy Bahama (gold sponsor), US Bank, CommerceWest Bank, Fletcher Jones Motorcars and Signature Party Rentals.
Media sponsors include World TV, The Daily Pilot, Coast Kids, Orange County Business Journal, Newport Beach Magazine, Image Magazine, 944 Magazine, Beverly Hills Life Magazine, Simply OC and KJAZZ (88.1FM).
Hostesses provided by the Miss California Beauty Pageant, the San Diego Charger Cheerleaders and Mr. California.
The cost to attend the event is $150 per person. For more information about the event, sponsorship opportunities or to purchase tickets, please visit http://www.aneveningforautism.org or http://www.southerncal.easterseals.com
About The Saywitz Company
Founded in 1976, The Saywitz Company provides real estate services to clients throughout California and has negotiated transactions in all 50 states. Headquartered in Newport Beach, Calif., the firm's exclusive representation of tenants and buyers of commercial real estate allows the team the ability to provide unbiased expertise with no conflicts of interest. The Saywitz Company is proud to be one of the founding members of The CORE Network, which is one of the largest commercial real estate organizations in the world with more than 100 offices throughout the United States. Additional information is available at http://www.saywitz.com
About Easter Seals Southern California
Easter Seals is the leading non-profit provider of services for individuals with autism, developmental disabilities, physical disabilities and other special needs. For nearly 90 years, we have been offering help and hope to children and adults living with disabilities, and to the families who love them. Through therapy, training, education and support services, Easter Seals creates life-changing solutions so that people with disabilities can live, learn, work and play. Support children and adults with disabilities at http://www.easterseals.com or http://autism.easterseals.com/.
About Talk About Curing Autism (TACA)
Talk About Curing Autism (TACA) provides support, education and information, and resources to approximately 14,000 families across the United States who are touched by autism. One in every 150 children in the United States has autism. TACA provides the largest national telephone and email response team for parents who have a child affected by autism. 95 percent of TACA's programs and services are provided at no charge and include education and support meetings, parent mentoring, and the Autism Journey Guide. TACA helps to strengthen the autism community by connecting families with professional assistance and serves to bridge the gap between diagnosis and effective treatment. http://www.tacanow.org
About Autism Society of America
Autism Society of America (ASA), the nation's leading grassroots autism organization, exists to improve the lives of all affected by autism. We do this by increasing public awareness about the day-to-day issues faced by people on the spectrum, advocating for appropriate services for individuals across the lifespan, and providing the latest information regarding treatment, education, research and advocacy. Additional information is available at http://www.autism-society.org
About Newport Mesa School District
Newport-Mesa Unified School District, in partnership with the Costa Mesa and Newport Beach communities, is to graduate students who have acquired the knowledge, skills, and attitudes necessary to achieve significant career, educational, civic, and personal goals, which will enrich our society. The school district offers an extensive preschool program for special needs students and those with autism in particular. There are five preschool programs with 10 classrooms throughout Newport Beach and Costa Mesa. In 2008, the district formed a softball league, T-ball league and track and field Olympics for all of the preschools to assist those special needs students in adapting to social environments, sports and physical development.
About Tommy Bahama
Tommy Bahama is a division of the Tommy Bahama Group, a wholly owned subsidiary of Oxford Industries, Inc. (NYSE:OXM). Established in August 1992, with corporate headquarters in New York and Seattle, Tommy Bahama is a lifestyle company that defines elegant tropical living with men's and women's sportswear, denim, swimwear, accessories and a complete home furnishings collection. Tommy Bahama is available at the country's finest retailers, including Bloomingdale's and Nordstrom, as well as high profile resort locations around the world. There are over seventy Tommy Bahama's retail locations across the country. Additional stores will be opening this year. For more information, please visit http://www.tommybahama.com
About Christine Devine
Christine Devine anchors the FOX 11 Ten O'clock News, seen weekday evenings at 10 p.m. on FOX 11. She has won eight Emmys, six for best newscast (2005, 2004, 2003, 1997, 1994, 1993). She also co-anchors FOX News at 11 p.m. on Channel 13. Devine is known for her Wednesday's Child segment. Since 1994, she has profiled foster children looking for adoptive homes. In 2006 she received two awards in Washington D.C. The Society of Professional Journalists' "Sigma Delta Chi Award for Public Service In Television Journalism." The Child Welfare League of America's "Anna Quindlen Award for Excellence in Journalism on Behalf of Children and Families." Devine began her broadcasting career during college working as a radio disc jockey and TV weather reporter. She grew up in Arizona, earned a Bachelor of Arts degree in broadcast journalism from the Walter Cronkite School of Journalism and Telecommunications at Arizona State University.
About Bubba Jackson
As a radio personality and Program Director for KJAZZ (88.1 FM), he has worked for XM Satellite Radio - Washington, DC; KPCC Pasadena, CA; KJAZ San Francisco, CA; Music Choice; KACE, Los Angeles, CA; EUROJAZZ Holland; and KADX and KBPI Denver, CO and KLON-Long Beach. From the Los Angeles Times Calendar section received the distinction of being recognized as "One of the best things about drive-time In L.A. is Bubba Jackson's Jazz on KLON." He has received vast recognition from political leaders and the community such as the Senator Diane Watson Certificate of Recognition for Community Service; Councilman Robert Farrell Commendation for working with the Youth and Community Service; Mayor Tom Bradley Certificate of Appreciation, Supervisor Kenneth Hahn Commendation for Community Service; The Jazz Corner Recognition as Best DJ, KLON-FM, 88.1 in Long Beach.
Media Contact:
Vanessa Showalter
V/S Communications
949-748-0542
###