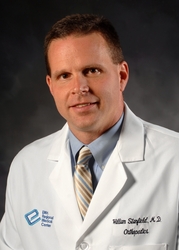 The two biggest problems with joint replacement are artificial joints that are not properly positioned and not properly sized
Sheffield Village, Ohio (PRWEB) August 11, 2009
Dr. William Stanfield at the Center for Orthopedics in Sheffield Village, Ohio, now offers OtisKnee® Custom Fit Knee Replacement. OtisKnee preserves more of the patient's own bone and ligaments, allowing for better implant fit and alignment -- and a faster return to an active lifestyle.
"The two biggest problems with joint replacement are artificial joints that are not properly positioned and not properly sized," says board-certified orthopedic surgeon William Stanfield, MD, of the Center for Orthopedics in Sheffield Village, Ohio.
"OtisKnee Custom Fit Knee Replacement solves both of these problems by matching the size and placement of the knee implant to the patient's normal knee anatomy," explains Dr. Stanfield.
"Traditional knee replacement surgery requires drilling into the thigh bone and sometimes cutting the posterior cruciate ligament in the knee," says Dr. Stanfield, who specializes in joint replacement. "This drilling and cutting increases surgical risk and post-operative pain, and lengthens recovery time."
"OtisKnee uses custom fit technology to ensure proper alignment of the replacement knee. Up to 40% less bone is cut from the thigh bone and all ligaments are spared, giving a more natural-feeling knee, less post-operative pain and a faster recovery," Dr. Stanfield explains.
OtisKnee relies on computerized technology before and during knee replacement surgery. Before surgery, the patient has an MRI to take very precise measurements of the arthritic knee. From that image, specialized computer software builds a three-dimensional (3-D) model of the arthritic knee -- then virtually corrects the deformity to restore the knee's normal anatomy.
A computerized 3-D image of the knee implant is then ShapeMatched® to the anatomically correct model. This helps determine the exact size and placement of the knee implant based on the patient's normal anatomy. Using this information, special OtisKnee cutting guides are created for the surgeon to use during the knee replacement procedure.
Perhaps no one knows better how OtisKnee compares to traditional knee replacement than a patient who has had one of each. Patricia, age 64, had a traditional knee replacement on her right knee in 2004 -- and an OtisKnee Custom Fit Knee Replacement on her left knee two months ago.
"My left knee was full of arthritis -- it was down to bone-on-bone," Patricia recalls. "The past year was horrible. I just couldn't tolerate the pain."
Patricia had OtisKnee Custom Fit Knee Replacement on June 1 and was climbing stairs three days later. "After my traditional knee replacement, they never even got me on the steps until three weeks after surgery," she says. "With OtisKnee, I was on the stairs the day I came home from the hospital."
Just a week after her OtisKnee surgery, Patricia was riding a stationery bike. She began a course of physical therapy the day after her surgery and progressed very quickly. "I had surgery on the 1st and drove on the 17th," she recalls. "In my second week of physical therapy, I could already bend my leg at 94 degrees. I couldn't do that with my traditional knee replacement for almost two months," she says.
"When I got my post-op x-rays, the tech remarked, '"What a perfect fit! Look at the nice alignment you've got," Patricia recalls. After her OtisKnee surgery, Patricia was scheduled for an eight- to 10-week physical therapy course. But with her rapid progress, she needed only six weeks of therapy. "My physical therapist said I was doing so well that I could do the exercises at home," she says.
"With my traditional knee replacement, it took a good six months before I could say I was pain-free and could walk well. Right now, I'm two months post-op from OtisKnee and I've never had any pain in my knee," says Patricia. "I walk, go to the mall, to the grocery store. I can push a lawn mower, go up and down the stairs -- I do it all!"
"People can't get over my progress," says Patricia. "Someone asked me, 'How long ago did you have your surgery?' and when I said, 'Two months,' they were amazed. They said, 'I thought you maybe had surgery nine months ago because you're walking so well. You don't even walk with a limp.' I said, 'You're not supposed to limp. If everything is working right and you're doing the right things, you shouldn't have a limp.' I'm very pleased!"
For more details on OtisKnee Custom Fit Knee Replacment, visit http://www.center4orthopedics.com/procedures/otisknee. To schedule a consultation with Dr. Stanfield or any of the orthopedic surgeons at Northeast Ohio's Center for Orthopedics, call 440.329.2800.
The Center for Orthopedics, part of EMH Regional Healthcare System, offers the most comprehensive bone and joint care in Cleveland's west side, western Cuyahoga County and Lorain County, Ohio. Complete orthopedic care is available from an expert team of five advance-trained, board-certified orthopedic surgeons at offices in Sheffield Village, Oberlin and Westlake, Ohio. Call 440.329.2800 or visit http://www.center4orthopedics.com.
# # #