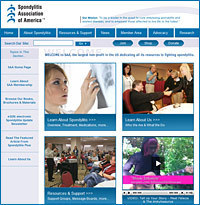 I think we have succeeded in creating not only a dynamic graphic design of the site, but also an extremely easy interface for users to quickly navigate to the information they need
Sherman Oaks, CA (PRWEB) August 12, 2009
The Spondylitis Association of America unveils the latest generation of the most comprehensive resource for the spondylitis community -- http://www.spondylitis.org
The new spondylitis.org has a sleeker, cleaner design aimed to make the wealth of information contained on the site easier to find and more accessible than ever before.
"I think we have succeeded in creating not only a dynamic graphic design of the site, but also an extremely easy interface for users to quickly navigate to the information they need," said Chris Miller, SAA's Design & Web Coordinator.
"We believe that the new version of spondylitis.org pushes the boundaries of what nonprofits are doing online. Recent years have seen tremendous changes in how nonprofit websites provide education and support to visitors. The new spondylitis.org offers a wide array of new features requested by our members, easier navigation and multimedia so that visitors to the site don't just read the information, but see it and hear it straight from the experts by way of podcasts and video files."
New design features provide users alerts regarding site updates. As medical research in the field of spondylitis continues to uncover new discoveries, it is more important than ever to keep up with advancements in the research and treatment. An RSS feed and interactive message boards provide real-time access to the latest developments that are of interest to those affected by spondylitis and its related diseases.
"The new spondylitis.org isn't just a source for education; it is also a place to return to for support and new content including news, video and stories from members."
About Ankylosing Spondylitis
Spondylitis is the term used to refer to a group of chronic, inflammatory diseases that generally strike young people between the ages of 17 and 35. Typically, spondylitis causes pain and stiffness and, in the most severe cases, can result in a total fusion of the spine and/or neck, leading to disability. Although spondylitis primarily affects the spine, it can also affect the joints of the shoulders, hips, knees and feet, as well as cause inflammation of the eye. More rarely, because AS is a systemic (whole body) condition, other organs such as the heart and lungs can also become involved.
About the Spondylitis Association of America
The Spondylitis Association of America (SAA) is the only nonprofit organization in the US dedicated to improving the lives of people with ankylosing spondylitis and related diseases. Established in 1983, SAA is committed to increasing awareness of spondylitis, providing information and support to patients and their families, and ultimately, working to uncover a cure for the disease.
SAA produces the most comprehensive library of spondylitis resources available in the US -- including books, DVDs, CDs, brochures and other publications; an 800-page interactive website; a quarterly, advertising-free news magazine, and a network of nationwide Educational Support Groups to educate and support people living with this chronic illness.
At the forefront of every major milestone achieved in spondylitis education, research and treatment in the last 25 years, you will find the Spondylitis Association of America.
###