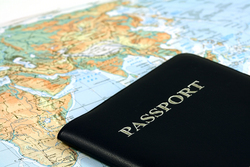 The research gives us, at times, an amusing insight into the different stress factors experienced by men and women when on holiday.
Cardiff, UK (PRWEB) August 14, 2009
New research from Confused.com has revealed that rather than being a relaxing experience, many Brits find going on holiday a stressful experience, taking on average, a full two days to properly chill out.
The survey from the travel insurance comparison specialists, found an incredible 75% of respondents admitting to spending two hours each day feeling stressed when on their well earned 'break.' Four in 10 females found fun in the sun more stressful than they anticipated, as the organisation of men and children became too much.
Causes of increased stress levels varied. With the common culprits (such as delayed flights) at the top of the table, a few surprise entries appeared. Family arguments and bad weather were cited as some of the most stressful situations, while twice as many women found the temporary loss of a child on a busy beach more traumatic than the male.
Forget the friendly British. One thing that remained consistent across the board was answers to 'why' certain countries were stressful. 'The people' was given as a popular answer to increased blood pressure, as language barriers and a cultured environment proved too much for the not-so-tolerant tourist.
Steve Williams, head of travel insurance at Confused.com said: "The research gives us, at times, an amusing insight into the different stress factors experienced by men and women when on holiday."
"While holiday insurance does not compensate for the loss of enjoyment because of a row or a few rainy days, it will cover financial loss as a result of eventualities such as delayed baggage or flights - often the more serious stress inducers."
"Holidays are meant to be relaxing and although travelling with insurance will not guarantee a more relaxing time, it can offer peace of mind for those already experiencing a stressful situation."
Spare a thought for the over 30's away on holiday this summer. Just under 50% find their breaks more stressful than expected, followed by 46% of 36 - 40 year-olds.
And finally a word of advice for all holidaymakers this year -the average person takes two days to relax into a holiday. With this in mind, perhaps a two week break is in order to ensure everyone gets a chance to really relax by the time they return.
Notes to Editors:
For further information please contact:
Press office, Confused.com: 02920 434 398.
Notes to editors
About Confused.com:
Confused.com is one of the UK's biggest and most popular price comparison services. Launched in 2002, it generates over one million quotes per month. It has expanded its range of comparison products over the last couple of years to include home insurance, single trip and annual travel insurance, pet insurance, van insurance, motorbike insurance, breakdown cover and energy, as well as financial services products including credit cards, loans, mortgages and life insurance.
Confused.com is not a supplier, insurance company or broker. It provides a free, objective and unbiased comparison service. By using cutting-edge technology, it has developed a series of intelligent web-based solutions that evaluate a number of risk factors to help customers with their decision-making, subsequently finding them great deals on a wide-range of insurance products, financial services, utilities and more. Confused.com's service is based on the most up-to-date information provided by UK suppliers and industry regulators.
Confused.com is owned by the Admiral Group plc. Admiral listed on the London Stock Exchange in September 2004. Confused.com is regulated by the FSA.
###