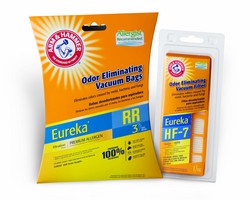 We can't control allergens and asthma triggers outdoors, but we can create cleaner homes indoors to give our families a respite from the growing number of irritants in the air
Bloomington, IL (PRWEB) August 18, 2009
Is the Ozone affecting your allergies? According to Women's Health magazine, global warming may be causing an increased amount of sneezing, sniffling and nose blowing this season - but that's no excuse to toss in the cleaning towel.
"We can't control allergens and asthma triggers outdoors, but we can create cleaner homes indoors to give our families a respite from the growing number of irritants in the air," said Leiah Miller, product manager for ARM & HAMMER® vacuum bags, filters and accessories.
Miller knows that often the act of cleaning can disrupt dust, pollen and pet dander in the home. She recommends the following simple steps that take advantage of tools already found at home:
Filter Air from the Floor Up with Vacuum Accessories:
Vacuuming agitates unseen particles on the floor, so be sure to take advantage of vacuum bags and filters that offer HEPA filtration and remove 99.97 percent of small particles, like dust, pollen, ragweed and pet dander. The ARM & HAMMER vacuum accessory line now offers more than 120 styles made to fit nearly all brands and models of vacuum cleaners. Developed with the natural power of ARM & HAMMER® baking soda, these vacuum bags and filters also eliminate odors, so there's no need for scented candles or chemical deodorizers that can further agitate allergy symptoms.
Clean High Spaces like a Celebrity:
Rearranging bookshelves, dusting the mantel and wiping down walls and crown molding can cause dust and dander to free fall. Protect eyes from falling particles that can cause irritation by donning sunglasses while cleaning high spaces.
Rain on the Dust Parade:
Dusting picture frames, vases or other hardy surfaces? Try damp dusting to reduce the amount of debris kicked up in the air while you work by lightly spraying an old t-shirt with water or grabbing a damp, clean sponge from the kitchen sink. The water will weigh down the particles, allowing you to wipe them away easily - without causing a dust storm.
Take It Outside:
Items that absorb or hold loose dirt - like floor mats, curtains or the dust cup on a bagless vacuum - need to be cleaned outside to keep irritants away from the hub of the home. Miller recommends emptying the dust cup of a bagless vacuum directly into a trashcan outside the home with the door shut firmly. For easier routine cleaning, look for vacuums, like the Eureka® Pet Pal™, featuring bottom-empty dust cups that make it easy to move debris from the cleaner to the trashcan without undue mess or hassle.
"A smarter cleaning routine can help you achieve the cleanest home possible, without leaving you itching for a tissue," said Miller. "Our expanded ARM & HAMMER line of vacuum filters and bags provide an effortless way to remove allergens while you clean. While your vacuum does the hard work, you can breathe easier knowing you have helped create an even cleaner home environment for your family."
ARM & HAMMER, the ARM & HAMMER logo and the distinctive yellow trade dress are trademarks of Church & Dwight Co., Inc.
# # #