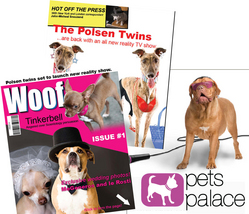 I can't believe I was stolen and my reward was only 5k. I'm appalled!
Sydney, NSW (PRWEB) August 19, 2009
Premium pet products company, Pets Palace Australia is launching 'Woof': the World's First Celebrity Pet Magazine Written by Dogs.
Featuring good gossip, celebrities and luxury pet lifestyle, "Woof" is an online magazine about celebrity pets.
'Woof' is totally dedicated to the life of dogs, cats, Hollywood and celebrities and is the latest innovation from Australian luxury pet website, http://www.petspalace.com.au
So luxurious it might even seem unreal, 'Woof' takes a hilarious look at the life of the upper crust of the dog and cat world. Written by dogs, for dogs, cats and their loving owners, the first edition of the magazine features a photo spread about the recent wedding of Helen MeGeneros and Porche le Rosti, plus interviews with the Queen's corgis, Lono, star barker of the band me-2, not to mention heaps of fashion features and a series of makeovers, transforming daily dogs into hot pups.
The magazine's editor is sassy Chihuahua Filippe Haultier, supported by foreign correspondent John-Michele Snouzend and beauty editor, Pixie Wixie - a poodle with all the latest fashion tricks.
Here is a quick snapshot of the fun stories in Woof magazine:
Venetia, a Celebrity Pug Dog Singer who has been distressed at her appearance on stage, underwent plastic surgery to smoothen out her skin.
"I was really self conscious of my wrinkly lines…"
or the adorable Chihuahua, Tinkerbell on her owner's paltry reward for her ransom: "I can't believe I was stolen and my reward was only 5k. I'm appalled!"
As ever, behind Pets' Palace's humour lies a more serious purpose.
'Recent figures from the USA, The 2007 US Pet Ownership and Demographic Source Book, show amazing growth in the pet market worldwide, with sales of pet products estimated at just under USD39 billion in the US and statistics from the UK: Saga National Survey show UKP3.9 billion in the UK,' says Diane Costa for Pets Palace. 'And in 2006, the Australian Companion Council estimated Australia spent over AUD4.5 billion on pet care products and services, almost 60% of which was on dogs.'
Diane also points out how fascinated society are by dogs; seeking out increasingly more information on their emotions and behaviour, citing the success of dog whisperer, Cesar Milan, and other dog behaviourists.
'Our dogs and cats are part of our family and the 3.75 million dog owners here in Australia simply want what is best for the furry member of the family. Entertainment is all part of the bonding experience and it goes beyond doggie play dates - check out Dogbook, a recent launch from Facebook, that connects both owners and dogs!'
Even Diane has to admit that some dogs and cats, puppies and kittens may struggle to read the text of the articles. But it's a hilarious treat for every dog owner - with an added bonus.
'The photos are absolutely gorgeous!' says Diane.
'Woof' can be seen at the following link: http://www.petspalace.com.au/woof-magazine/index.shtml
About Pets Palace: Pets Palace Australia is an online pet products store which promotes lifestyle and luxury for your pet and also offers a range of designer dog clothes and accessories for both dogs and cats.
###