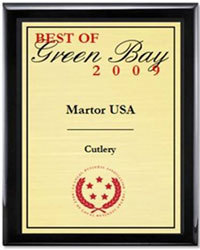 Washington, DC (PRWEB) August 18, 2009
Martor USA has been selected for the 2009 Best of Green Bay Award in the Cutlery category by the U.S. Commerce Association (USCA).
The USCA "Best of Local Business" Award Program recognizes outstanding local businesses throughout the country. Each year, the USCA identifies companies that they believe have achieved exceptional marketing success in their local community and business category. These are local companies that enhance the positive image of small business through service to their customers and community.
Various sources of information were gathered and analyzed to choose the winners in each category. The 2009 USCA Award Program focused on quality, not quantity. Winners are determined based on the information gathered both internally by the USCA and data provided by third parties.
About U.S. Commerce Association (USCA):
U.S. Commerce Association (USCA) is a Washington D.C. based organization funded by local businesses operating in towns, large and small, across America. The purpose of USCA is to promote local business through public relations, marketing and advertising.
The USCA was established to recognize the best of local businesses in their community. Our organization works exclusively with local business owners, trade groups, professional associations, chambers of commerce and other business advertising and marketing groups. Our mission is to be an advocate for small and medium size businesses and business entrepreneurs across America. SOURCE: U.S. Commerce Association
About Martor:
MARTOR Germany, has been a global leader in the manufacture of high quality knives and blades for almost 70 years. Manufacturing is done in Solingen, Germany, better known as "The Knife Capital of the World." In 1976, MARTOR developed the first Spring Loaded Retractable (SLR) safety cutter bearing the GS mark. This knife, the MARTOR Profi, soon became the standard of safety in European industry. The Profi was the first safety cutter designed to protect users from cutting tool injuries. Today, MARTOR produces almost 300 different styles of knives and cutters specific to industry and its needs. Martor is the undisputed market leader and continues to pioneer and develop the latest technology in safety cutters. In addition to Smart Knives, SLR Knives, Concealed Blade Safety Cutters, the line includes many Bladeless Cutters, Metal Detectable Plastic Cutters, Deburring Tools and the largest variety of blade options.
###