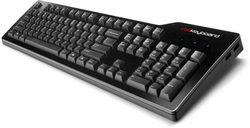 One woman came over to me and said, 'You're typing too loud!'
Austin, TX (PRWEB) August 20, 2009
Like fingernails tapping on the keys of a piano, "Das Keyboard" can be one of the loudest, clickiest keyboards on the planet. Fortunately for co-workers and significant others, the makers of the high-end keyboard have developed a foolproof solution to the noise: earplugs.
Starting today, Das Keyboard will begin offering earplugs through their online store (http://www.daskeyboard.com) in addition to both of their current products - the "Professional," which has labeled keys, and its stealth counterpart, the "Ultimate," a totally letter-barren keyboard for the expert typist, gamer, or otherwise hardcore user.
The plugs are designed to quiet office hostility by allowing Das Keyboard users to present them as a peace offering to their neighbors. The plugs may also prove handy at NASCAR races, the shooting range, or at 3 a.m. when your spouse is snoring uncontrollably.
"The clicks did bother some of my co-workers at first," admitted Kyle Ridolfo, a 32-year-old Web developer in New Hampshire, who now owns three Das Keyboards. "One woman came over to me and said, 'You're typing too loud!'"
Reminiscent of IBM's "Model M" keyboard from the 1980s, the Das Keyboard employs mechanical, Cherry MX-style key switches. As typists hit each key, there's a "click" just before the key hits the end of its stroke and again as it bottoms out. The process leads to faster tactile response and thus faster, more accurate typing. It also feels pretty cool.
Das Keyboard users love the audible feedback sound, but their co-workers often complain that it sounds like the modern child of an electronic typewriter and an arcade machine.
Fortunately, if the earplug gifts fail to quell office anger, Das Keyboard officials say, the 2.6-pound typing machine is sturdy enough to be used as a protective shield. A warning, though: the Das Keyboard is amazing, but it is not yet bulletproof.
Also, the keyboard is not recommended for mothers with sleeping children, hunt-and-peckers who enjoy wallowing on soft keys or spies who need to type in complete silence. Users who returned to membrane-based keyboards complained they felt comparatively squishy and sluggish to Das Keyboard.
Ridolfo said his co-workers adjusted to his clicks and then learned something about him.
"Now everyone is impressed with how fast I can type because they can hear every keystroke," he said.
About Das Keyboard
Das Keyboard is a sub-division of Metadot Corporation, a privately held technology company headquartered in Austin, TX dedicated to delivering innovative technology products to increase productivity and lower costs. Developed in 2005, Das Keyboard has been praised by major media outlets, techie magazines, geeks and regular people who use a keyboard for the entire workday. Major features include the high-quality, gold-plated, mechanical key switches, USB 2.0 hub, 6.6 foot USB cable and a sleek, glossy black surface with blue LEDs.
More information, visit http://www.daskeyboard.com/blog or http://www.twitter.com/daskeyboard.
Media Contact:
Patricia Friar
(512) 656-3730
###