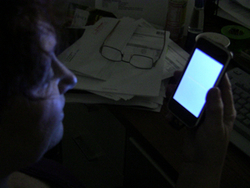 Schenectady, NY (PRWEB) August 21, 2009
A new iPhone application uses focused blue light to fight seasonal depression and fatigue by fooling the body's internal clock. The BluWave iPhone app uses Light Emitting Diode (LED) technology to deliver blue light adjustable in specific Nanometers (nm). Blue light therapy has been clinically proven to combat Seasonal Affective Disorder (SAD), depression, fatigue and general body clock issues. While blue spectrum technology is presently used in modern light therapy devices, BluWave is the first device offered on mobile phones. BluWave can also be used to combat jet lag, night worker fatigue and drowsy driving when used as directed.
Here's How It Works:
The human body reacts to specific wavelengths of light through receptors in the back of the eyes. When these receptors sense certain colors in specific wavelengths, they signal the brain to release chemicals that control the body and mind. These receptors are extremely sensitive and even react when the eyes are closed. When these receptors sense blue light between 450nm and 490nm, they trigger the release of natural chemicals that increase energy, vitality and mental alertness by fooling the biological clock into thinking it's morning. When aimed directly on the skin, blue light also triggers receptors in skin cells that fight acne and blemishes by killing bacteria and promoting healing.
Many clinical studies show blue light to be even more effective than caffeine for sustained alertness. In 2006, a Harvard Medical School study found blue light to be more effective than white light for increasing energy in men and women. In 2008, scientists at Rensselaer Polytechnic Institute, New York tested blue LED light to combat drowsy driving. They found that blue light delivered at 470nm was highly effective for drivers of all ages.
According to Wayne Perry, CEO of GSC Products, blue light therapy opens up a new dimension for modern cell phones by delivering natural health benefits.
"Blue light therapy really works. In just 15 to 30 minutes a day, this application invigorates your mind and body as well as expensive light boxes. The light is effective when placed anywhere within four feet of your face at any angle. You can lean it up on a phone stand or lay it on your desk or kitchen table. It's also highly effective for long road trips and night driving without interfering with the driver's vision. This application is also great for college students who need to focus for late night study sessions," says Perry.
Since the BluWave app is easily adjustable, users can program the wavelength of light that best suits their needs. BluWave also features an audio mode with relaxing natural sounds including rain, ocean, nature, wind and waterfalls.
While stand alone light therapy devices cost hundreds of dollars, BluWave can be downloaded for just $1.99 at the iTunes App Store. Since BluWave is stored on a cell phone, it can be used anywhere. So whether you're feeling that 3PM afternoon slump or just waking up with a morning cup of coffee, BluWave is ready to go in the palm of your hand.
BluWave is presently available for the IPhone and IPod Touch with more versions coming soon for the Blackberry and Palm platforms. BluWave is a proprietary application available only from GSC Products. For more information visit PocketPainDoctor.com. Free trial downloads are available for qualified media personnel and reviewers upon request.
# # #